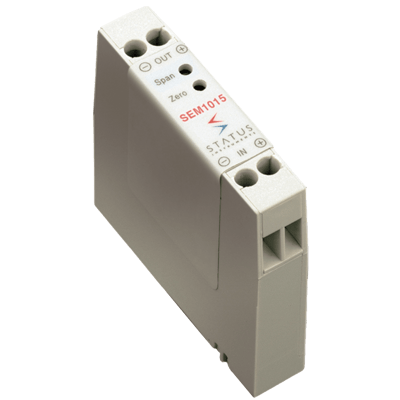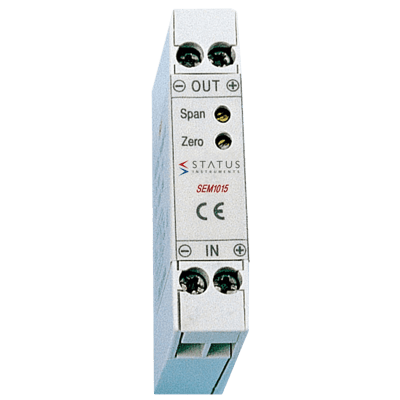 Images are representations only.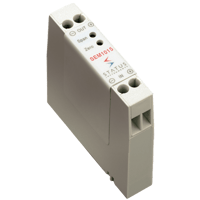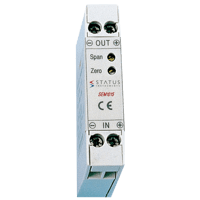 The SEM1015 is a (4-20) mA loop-powered isolator that can be configured to accept voltages between -10 to100 Vdc.

The voltage range can be specified at time of order, but if required the user may re-range the transmitter to a new range.

The isolator is housed inside a 12.5 mm wide plastic enclosure, suitable for DIN Rail mounting. Screw terminals are provided for wire connections.

The enclosure provides side entry access to coarse offset and span adjusters and a range select switch.
Features
Accepts Any DC Voltage Input Between -10 and 100VDC
Loop Powered 4 to 20 mA Output
Can Be Used As Adder Or Subtractor
High Accuracy
Galvanic Isolation
Specifications
Accuracy
Maximum
Typical Linearity: ± 0.01 %
Ambient Temperature Range
0° to 70° C (32° to 158° F)
Approvals & Certifications
CE
EMC BS EN 61326
UL 94-VO
VDE 0304 Part 3, Level IIIA
Electrical Protection
Reverse Connection Plus Overvoltage
Humidity
10 to 95 % Relative Humidity, Non-Condensing
Input
Offset: -20 mV - 40 V
Span: 20 mV - 100 V
Isolation
500 Vdc (Flash Tested to 1 kV)
Mounting
Rail Mounting Snap on Top Hat (DIN EN 50022-35)
Output
4-20 mA, 30 mA - Max.
Ripple: less than 40 µA/V
Response Time
200 milliseconds to Reach 70 % of Final Value
Size
Cable Size: 4 mm² Solid / 2.5 mm² Standard