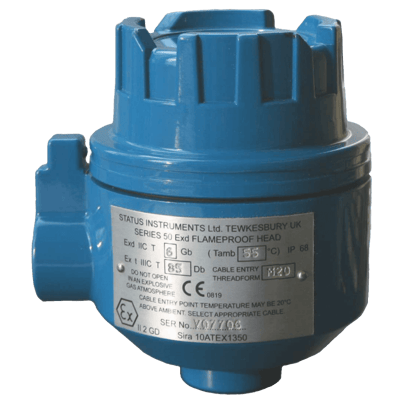 Images are representations only.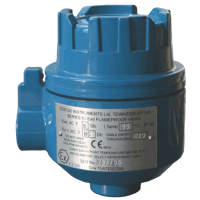 The SCH50 series is manufactured from cast Aluminum finished in a blue epoxy paint, or stainless steel and is certified as an Ex d flameproof connection head.

It has been designed to house our SEM200, 300 and TTR series temperature transmitters as well as ceramic connection blocks.

There is a display window option which allows the process value to be displayed when used with our DM700HM/XI loop-powered indicator.

All versions come with a flame proof collar and we can supply temperature probes specially designed to suit Ex d applications.

Sealed to IP68, the SCH50 can be specified with base or side entries.

The SCH50 Series can be either IECEx or Atex approved, this to be specified along with side entry size at the time of ordering.
Specifications
Ambient Temperature Range
55° to 170° C (131° to 338° F)
Approvals & Certifications
CE
IECEx SIR 10.0178, Ex d IIC T3 Gb T Amb 170° C, Ex T IIIC T 200° C Db IP68 T Amb 170° C
IECEx SIR 10.0178, Ex d IIC T4 Gb T Amb 105° C, Ex T IIIC T 135° C Db IP68 T Amb 105° C
IECEx SIR 10.0178, Ex d IIC T5 Gb T Amb 70° C, Ex T IIIC T 100° C Db IP68 T Amb 70° C
IECEx SIR 10.0178, Ex d IIC T6 Gb T Amb 55° C, Ex T IIIC T 85° C Db IP68 T Amb 55° C
Sira 10-ATEX-1350, Ex d IIC T3 Gb T Amb 170° C, Ex T IIIC T 200° C Db IP68 T Amb 170° C
Sira 10-ATEX-1350, Ex d IIC T4 Gb T Amb 105° C, Ex T IIIC T 135° C Db IP68 T Amb 105° C
Sira 10-ATEX-1350, Ex d IIC T5 Gb T Amb 70° C, Ex T IIIC T 100° C Db IP68 T Amb 70° C
Sira 10-ATEX-1350, Ex d IIC T6 Gb T Amb 55° C, Ex T IIIC T 85° C Db IP68 T Amb 55° C
Cable Entry
1/2" BSP
1/2" NPT
M20 x 1.5
Connection Material
Connection Block: Ceramic