Images are representations only.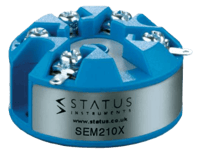 The SEM210 is a second generation 'Smart' Universal input in-head temperature transmitter that accepts RTD, Thermocouple, Potentiometer, Slidewire transducer or Millivolt signal and converts the output to the industry standard 4-20 mA transmission signal.

The sensor type and range are easily programmed using a PC and our free configuration software download from our web site.

Connection from the PC USB port and the SEM210 is made using the USB port powered configurator.

This simplifies connection and allows for re-programming or interrogation of the SEM210 while it is installed in the loop or not.

Sensors can be changed without the need for re-calibration.
Features
Dual RTD, Thermocouple, Potentiometer and mV Inputs
UKEX, ATEX, IECEx Approved Versions For Hazardous Areas
Isolated Input to Output 4kV DC Flash Tested
Maths Functions Between Inputs
SIL 2 Hardware Safety Integrity
Specifications
Accuracy
± 5 µA
Basic Measurement Accuracy: ± 0.01 % of Full Range Input (FRI) ± 0.05 % of Reading
Basic Measurement Accuracy: ± 0.04 % of FRI ± 0.04 % of Reading or 0.5° C (0.9° F), whichever is greater
Basic Measurement Accuracy: ± 10 µV ± 0.07 % of Reading
Basic Measurement Accuracy: 0.1 %
Cold Junction Error: ± 0.5° C ( ± 0.9° F)
Approvals & Certifications
ATEX: II 1 G EEx ia IIC T4-T6
EMC: BS EN 61326
FM: IS/I/1/ABCD/T4
Cable Length
3,281 feet (1,000 metres) - Maximum
Communication
PC Interface: USB Connector
Control Functions Characteristics
Current
Excitation Current: 300-500 µA
Humidity
Ambient Humidity: 10 to 90 % Relative Humidity, Non-Condensing
I.S Version: 0 to 100 % Relative Humidity
Input
3-Wire Potentiometer
Voltage Source
Isolation
Input/Output Breakdown Isolation: 500 Vac rms
Linearization
RTD: BS 1904
RTD: BS EN 60751
RTD: DIN 43760
RTD: JISC 1604
Thermocouple: BS 4937
Thermocouple: IEC 584-3
Operating Temperature
Ambient Operating Range & Cold Junction Range: -40° to 85° C (-40° to 185° F)
Output Load
700 ohms at 24 V, Maximum
Sensor, Probe Type
E Thermocouple
J Thermocouple
K Thermocouple
L Thermocouple
N Thermocouple
RTD
R Thermocouple
S Thermocouple
T Thermocouple
Span - Minimum
25° to 100° C (77° to 212° F)
5 mV
5%
Stability
0.1 % of Full Range Input or 0.1° C (0.18° F)/Year
Storage Temperature
Ambient Storage Temperature: -50° to 100° C (-58° to 212° F)
Temperature Effect
Cold Junction Tracking: 0.05° C/°C
Lead Resistance Effect: 0.002° C/ohm
Temperature Range
Sensor: -200° to 1,760° C (-328° to 3,200° F)
Sensor: -200° to 850° C (-328° to 1,562° F)
Thermal Drift
Span: 0.01 %/°C
Zero: 0.008° C/°C
Zero: 0.1 µV/°C
Update Time
250 milliseconds, Maximum
Warm-Up: 120 seconds to Full Accuracy