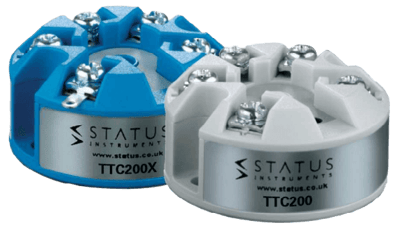 Images are representations only.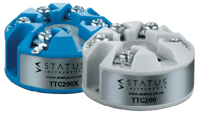 The TTC200 is our mid range transmitter for thermocouple and mVsensors. It can accept 13 different types of thermocouple sensors as well as mV up to 200 mV.

This product has a calibration feature where the output can be matched to the sensor on the input. It can be matched at zero, or both zero and span ends of the temperature range being measured.

This is typically used when the product is being supplied with a calibration certificate matched to a particular temperature probe.
Specifications
Accuracy
(mA Output/2,000) or 5 µA whichever is greater, Drift 1 µA/°C
± 0.02 % of Full Scale (-100 to 200 mV)
± 0.1 % of Full Scale ± 0.5° C ( ± 0.9° F) (Plus Sensor Error)
± 0.2 % of Full Scale ± 0.5° C ( ± 0.9° F) (Plus Sensor Error)
Ambient Temperature Range
Configuration Ambient: 10° to 30° C (50° to 86° F)
Approvals & Certifications
ATEX - CE II 1 GD, Ex ia IIC T4 Ga, Ex iaD 20 T1 35° C Da, Tamp = 40° to 85° C
CE - BS EN 61326
Burn-Out
Downscale - 3.8 mA
Up Scale - 21.5 mA
Communication
Baud Rate: 1,200 bit/sec
USB 2.0
Current
Excitation Current: < 200 UA
Humidity
10 to 90 % Relative Humidity, Non-Condensing
Linearization
(2 to 22) Segments mV to Process
Operating Temperature
Operating Ambient Temperature: -40° to 85° C (-40° to 185° F)
Output
2-Wire
4-20 mA Current Loop
Power Supply
< 1 W Full Power
10-30 Vdc
Response Time
500 milliseconds
Start Up: 5 seconds
Sensor, Probe Connection
Screw Terminal 2.5 mm, Maximum
Sensor, Probe Type
B Thermocouple
C Thermocouple
D Thermocouple
E Thermocouple
J Thermocouple
K Thermocouple
L Thermocouple
N Thermocouple
R Thermocouple
T Thermocouple
U Thermocouple
W Thermocouple
Storage Temperature
Ambient Storage Temperature: -50° to 85° C (-58° to 185° F)
Temperature Range
Cold Junction: -40° to 85° C (-40° to 185° F)
Thermocouple: -200° to 2,300° C (-328° to 4,172° F)
Thermal Drift
1 µA/°C
Thermocouple Offset: 0.1° C/°C
Update Time
160 milliseconds
Warm-Up: 2 minutes