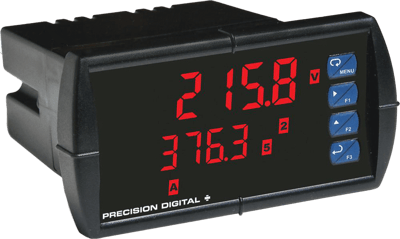 Images are representations only.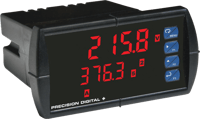 The ProVu PD6402 is a True RMS High Voltage & mV to Current Meter and is an ideal replacement for the discontinued Bitronics GSDIE1.

It will simultaneously measure a direct line voltage up to 300 V and a current shunt output up to 150 mV.

The mV input can be scaled to represent current: A.

The PDA6018 adapter plate allows for use of existing mounting cutouts.

Extra bright LEDs make for easy reading, even in adverse lighting conditions.

The PD6402 is frequently used to monitor field excitation voltage and current during start up and shut down of generating equipment.
Features
1/8 DIN Digital Panel Meter with NEMA 4X, IP65 Front
1 High Voltage and 1 mV Input
True RMS AC with Crest Factor of 2 at Full Scale
Multiplication for Apparent Power Calculation
0-300 VAC or VDC Voltage Input
0-150 mV AC or DC Input from Current Shunt
Dual-Line 6-Digit Display, 0.6" / 15 mm & 0.46" / 12 mm
2 or 4 Relays with Interlocking Capability + Isolated 4-20 mA Output Options
Free PC-Based, On-Board, MeterView Pro USB Programming Software
No Assembly Required
Optional SunBright Display Models for Outdoor Applications
Operating Temperature Range: -40 to 65°C / -40 to 149°F
UL & C-UL Listed. E160849; 508 Industrial Control Equipment
Input Power Options: 85-265 VAC / 90-265 VDC or 12-24 VDC / 12-24 VAC
Programmable Display, Function Keys & Digital Input
External 4-Relay, Dual 4-20 mA Outputs & Digital I/O Expansion Modules
RS-232 & RS-485 Serial Communication Options with Modbus RTU
Password Protection
Wide Assortment of NEMA 4X Enclosures for up to Ten Meters
Light / Horn & Reset Button Accessory
Control Station Accessory for Remote Operation
3-Year Warranty
Specifications
Display
Line 1: 0.60" (15 mm) high, red LEDs
Line 2: 0.46" (12 mm) high, red LEDs
6 digits each (-99999 to 999999), with lead zero blanking
Isolation
500 V AC/DC potential allowed between voltage and current input channels
Channels isolated by 3 MΩ impedance 4 kV input/output-to-power line 500 V input-to-output or output-to-P+ supply
Operating Temperature Range
-40 to 65°C / -40 to 149°F
Storage Temperature Range
-40 to 85°C / -40 to 185°F
Connections
Removable screw terminal blocks accept 12 to 22 AWG wire, RJ45 for external relays, digital I/O, and serial communication adapters
Enclosure
1/8 DIN, high impact plastic, UL 94V-0, color: black
Mounting
1/8 DIN panel cutout required: 3.622" x 1.772" / 92 mm x 45 mm
Two panel mounting bracket assemblies are provided
Overall Dimensions
4.68" x 2.45" x 5.64"
119 mm x 62 mm x 143 mm
W x H x D