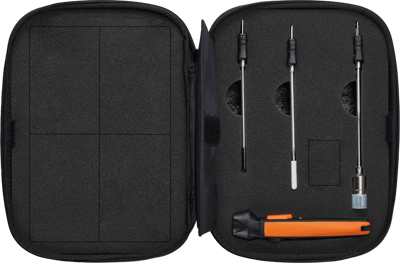 Images are representations only.
Testo 915i Temperature Kit - Thermometer with Temperature Probes and Smartphone Operation
Brand:
Testo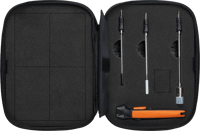 The Testo 915i temperature kit with temperature probes will enable you to tackle your temperature measurements with greater speed, flexibility and ease: Included is a wireless thermometer Testo 915i, an air probe, an immersion/penetration probe and a surface probe (all TC type K, class 1).

The handle is compatible with all standard type K thermocouple probes – making it versatile.

Thanks to Bluetooth and the Testo Smart App, operation, evaluation and documentation can be carried out with exceptional ease and flexibility.

Wireless, versatile, easy to use: The kit, which includes a thermometer, an air probe, immersion/penetration probe and surface probe, is ideal for carrying out temperature measurements in a wide range of applications.

The Testo 915i thermometer with smartphone operation and Bluetooth is part of the popular Testo Smart Probes portfolio.

The thermometer provides fast, reliable measurement results and is particularly versatile and easy to use in combination with the probes, Bluetooth and Smart App.

Testo 915i Temperature Kit: Thermometer with Temperature Probes and Smartphone Operation

Robust, fast-response immersion/penetration probe (TC type K, class 1), measuring range -50°C to +400°C, application: Temperature measurement in liquids, pastes and semi-solid media
Fast-response surface probe (TC type K, class 1) with sprung thermocouple strip, measuring range -50°C to +350°C, application: Temperature measurement on flat and non-planar surfaces, e.g. also for measurements on pipes
Robust, fast-response air temperature probe (TC type K, class 1), measuring range -50°C to +400°C, application: Measurement of ambient temperature as well as temperatures in ducts and at air outlets
High measuring accuracy up to ±1.0°C thanks to system calibration ex-works
For fast, wireless temperature measurements
Innovative locking mechanism on the handle for easy, secure attachment of plug-in Testo measuring probes
Versatile in all temperature-relevant applications: Compatible with all Testo and standard type K thermocouple probes
Testo Smart App: Display of readings, clear graphical presentation of temperature curves, create documentation on site and send as a PDF or CSV file
Automatic Bluetooth connection to smartphones, tablets or compatible Testo measuring instruments
Bluetooth with a range of up to 100 m
Handy, robust housing
Testo Smart Case: Case for safe storage and convenient transportation of thermometer and probes
Thanks to its proven quality and great durability, you can rely on your Testo Smart Probe in all conditions
Features
Smart Probe for wireless temperature measurement in a wide range of applications, thanks to a large selection of probes and compatibility with standard type K thermocouple probes
In the kit: Testo 915 Smart Probe with secure locking mechanism for attaching probes, air probe, immersion/penetration probe and surface probe, (all TC Type K, Class 1), Testo Smart Case
Easy operation, evaluation and documentation with free Testo Smart App as well as automatic Bluetooth® connection to smartphones, tablets or Testo measuring instruments (e.g. Testo 400, Testo 550s) with a range of up to 100 m
High measurement accuracy thanks to system calibration ex-works
Specifications
Delivery Scope
Thermometer with smartphone operation, Smart Probe testo 915i
Air probe (TC type K, class 1)
Immersion/Penetration probe (TC type K, Class 1)
Surface probe (TC Type K, Class 1)
Testo Smart Case for storage
Batteries
Calibration protocol
Temperature - TC Type K (NiCr-Ni)
Measuring Range: -50° C to +400° C (Air Probe, Immersion/Penetration Probe) | -50° C to +350° C (Surface Probe)
Accuracy: Air Probe, Immersion/Penetration Probe: ± 1.0° C (-50° C to +100° C) | Air Probe, Immersion/Penetration Probe: ± 1 % of mv (Remaining Range) | Surface Probe: ± (1.0° C + 1 % of mv)
Reaction Time: t₉₀ = 3 s (Immersion/Penetration Probe, Surface Probe) | t₉₀ = 60 s (Air Probe)
Resolution: 0.1° C
Weight
Surface Probe: 22 g
Testo Smart Case (Temperature): 250 g
Air Probe, Immersion/Penetration Probe: 11 g
Bluetooth Handle: 88 g
Dimensions
Bluetooth Handle: 129 x 31 x 31 mm
Diameter Probe Tip: 3 mm (Immersion/Penetration Probe), 12 mm (Surface Probe)
Length Probe: 99 mm (Air Probe), 115 mm (Immersion/Penetration Probe), 136 mm (Surface Probe)
Diameter Probe Shaft: 4 mm (Air Probe), 5 mm (Immersion/Penetration Probe), 5 mm (Surface Probe)
Testo Smart Case (Temperature): 250 x 180 x 70 mm
Operating Temperature
-4° F to 122° F / -20° C to +50° C
Product / Housing Material
Protection Class
IP 20 (Air Probe, Surface Probe)
IP 40 (Immersion/Penetration Probe)
System Requirements
Requires iOS 12.0 or newer
Requires Android 6.0 or newer
Requires mobile end device with Bluetooth 4.0
Plug-in Probe Connection
Lockable Connection to 4 Standard Probes Testo 915i
Standard Plug-in Connection to Other Common TC Probes
Data Transfer
Bluetooth, Automatic Connection to Testo Smart App and Testo Measuring Instruments
Storage Temperature
-4° F to 140° F / -20° C to +60° C