Images are representations only.
Testo 440 dP - Air Velocity and IAQ Measuring Instrument with Differential Pressure Sensor
Brand:
Testo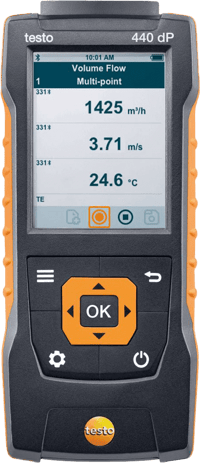 Precise, reliable measurement of all air velocity and IAQ parameters with just one measuring instrument – the Testo 440 dP.

This multifunction measuring instrument is intuitive and easy to use, thanks to its integrated differential pressure sensor and clearly structured measurement menus.

Adjusting air conditioning and ventilation systems, monitoring air quality, and carrying out comfort level measurements are all possible without the hassle of juggling different devices and tools.

Enjoy the versatility of using your choice of high quality digital probes with just one measuring instrument.

Use the Testo 440 dP air velocity and IAQ measuring instrument in combination with high quality probes to measure and store all air velocity and IAQ parameters.

Up to 3 probes can be connected simultaneously – a Bluetooth probe, a wired probe, and a temperature probe with a type K thermocouple connector (probes sold separately).

Automatic probe detection and clearly structured measurement menus guarantee simple operation and will make your day-to-day work easier.

The Testo 440 dP comes with an integrated differential pressure sensor.

This enables filter and fan measurements, as well as pitot tube and K factor measurements (pitot tube sold separately).

Measure in no time with the Testo 440 dP Multifunction Measuring Instrument

Carry out your measurements quickly and easily.

This multifunction instrument automatically detects each connected probe, which means you won't need to manually reset measurement parameters when changing probes.

Clearly structured measurement menus for measuring the volume flow in ducts and at outlets, funnel measurement, determining volume flow via differential pressure and K factor, measuring the degree of turbulence, determining heating/cooling output, mold detection, and long-term measurement provide you with the optimal support for quick and efficient work.

A Wireless Space Saver: More Applications, Less Equipment

Endlessly versatile – the universal probe handle can be connected to all probe heads, so you can measure everything you need, while saving money and space.

The Bluetooth probe handle makes it more convenient to carry out your measurements, and guarantees less cable clutter in your case.

It makes it possible to carry out measurements without any bothersome cable connections, and it transfers readings up to a distance of 65 feet.

If using a wireless connection is not possible, use the cable probe handle as a practical alternative.

Practical Measurement Data Management

The Testo 440 dP stores up to 7,500 measurement protocols, which can be read via USB port and further processed as a CSV file on your computer (e.g. with Excel).

With the Testo Bluetooth / IrDA printer (sold separately), you have the ability to produce a printed report of measurement data directly on site.

Intelligent Calibration Concept for Maximum Precision

You can rely on the accuracy of your measurement results with our digital probes, because the Testo 440 dP makes measurement uncertainty a thing of the past.

You only need to send the probes in for calibration, meaning the multifunction instrument can remain in continuous use with a variety of interchangeable probes.
Features
A measuring instrument for all climate-related parameters
Includes a differential pressure sensor: for Pitot tube measurement and monitoring filters
Extendible with a wide range of probes
Wireless measurement with Bluetooth probes
USB interface for exporting measurement reports as CSV files
Intuitive measurement menus
Precise and reliable in ducts and at air outlets


Large range of connectable probes: Hot wire and vane probe (Ø 0.6") for measurements in ducts, large vane probes (Ø 4") for measurements at air/ceiling outlets
Calculate volume flow quickly: In the measurement menu, simply configure the dimensions and geometry of the duct cross-section and see the volume flow displayed straight away
Easy to carry out measurements in larger ducts, due to the extendable telescope on the hot wire and vane probes (Ø 0.6"), up to a total length of about 6.5 feet
Carry out measurements at air/ceiling outlets effortlessly, without using a ladder – fit the vane probe (Ø 4") with the extendable telescope and 90° angle (both sold separately)
Use the vane probes in conjunction with the testovent measurement funnels and flow straighteners to test incoming / outgoing air at plate outlets, ventilation grills, and swirl outlets
Practical Bluetooth interface: Use the air velocity probes to measure without having to deal with any bothersome cables, operate the measuring instrument by pressing the button on the handle of the probe, e.g. to start or stop a timed mean calculation
Use the practical rear magnets to securely attach the multifunction measuring instrument to metal surfaces (e.g. ventilation ducts)

Long-term monitoring of indoor air quality


The right probe for your requirements: Probes for CO2, CO, and air temperature and humidity are available as wired or Bluetooth variants
Easy to use: Enter the measurement period and interval for long-term measurement, and track it over the course of the day
Internal memory for up to 7,500 measurement protocols

Turbulence measurement in accordance with EN ISO 7730 / ASHRAE 55


Attain a high level of accuracy, even at low air velocities, with a turbulence probe
Automatic calculation of draft risk and degree of turbulence in accordance with EN ISO 7730 / ASHRAE 55
For convenient measurements at varying heights, we recommend using our measuring tripod for comfort level measurement – this makes it easy to position turbulence probes in compliance with testing standards

Wide range of probes for laboratories and cleanrooms


Fume hood probe for high precision air velocity measurements
Thanks to its low startup speed of 0.1 m/s, the available vane probe (Ø 4") is ideal for laminar flow measurements in cleanrooms, available as a wired or Bluetooth variant
High precision temperature / humidity probe (0636 9771 or 0636 9772) with an accuracy of ±0.6% RH + 0.7% of m.v. in the 0-90% RH range for measuring the humidity in cleanrooms
Specifications
Delivery Scope
Testo 440 dP Air Velocity and IAQ Measuring Instrument with Integrated Differential Pressure Sensor, Connection Hose, 3 AA Batteries, USB Cable, and Calibration Protocol
Dimensions
6.1 x 2.6 x 1.3 in. / 154 x 65 x 32 mm
Operating Temperature
-4.0° F to 122.0° F / -20° C to +50° C
Connectable Probes
1 x Digital Probe with Cable or 1 x Temperature NTC TUC
1 x Digital Bluetooth Probe or Testo Smart Probe
1 x Differential Pressure (Internal)
1 x Temperature TC Type K
Battery Life
12 h (Typically Vane Measurement)
Storage Temperature
-4° F to +122° F / -20° C to +50° C
Temperature (NTC)
Measuring Range: -40.0° F to 302.0° F / -40° C to +150° C
Accuracy: ± 0.7° F (-40° F to -13.2° F) / ± 0.4° C (-40° C to -25.1° C) | ± 0.5° F (-13° F to 166.8° F) / ± 0.3° C (-25° C to +74.9° C) | ± 0.7° F (167° F to 211.8° F) / ± 0.4° C (+75° C to +99.9° C) | ± 0.5 % of mv (Remaining Range)
Resolution: 0° F / 0.1° C
Temperature (Type K TC)
Measuring Range: -328.0° F to 2498.0° F / -200° C to +1370° C
Accuracy: ± (0.5° F + 0.3 % of mv) / ± (0.3° C + 0.3 % of mv)
Resolution: 0° F / 0.1° C
Differential Pressure (Internal Sensor) - Piezoresistive
Measuring Range: -60 to +60 inH₂O / -150 to +150 hPa
Accuracy: ± 0.02 inH₂O (0 to 0.40 inH₂O) / ± 0.05 hPa (0 to 1.00 hPa) | ± 0.1 inH₂O + 1.5 % of mv / ± 0.2 hPa + 1.5 % of mv | (0.40 to +60 inH₂O) / (1.01 to +150 hPa)
Resolution: 0.00 inH₂O / 0.01 hPa
Long-term Monitoring of Indoor Air Quality
Convenience and Maximum Flexibility for Duct and Outlet Measurements
Turbulence Measurement in Accordance with EN ISO 7730 / ASHRAE 55
Range of Probes for Cleanrooms and Laboratories