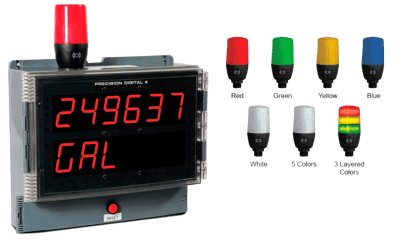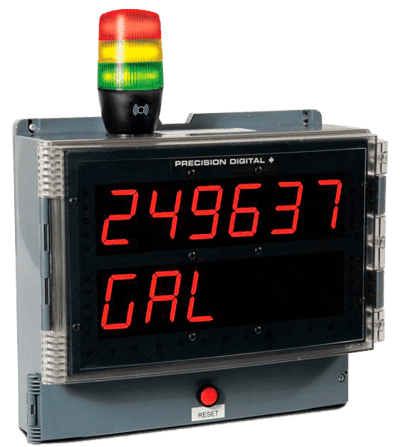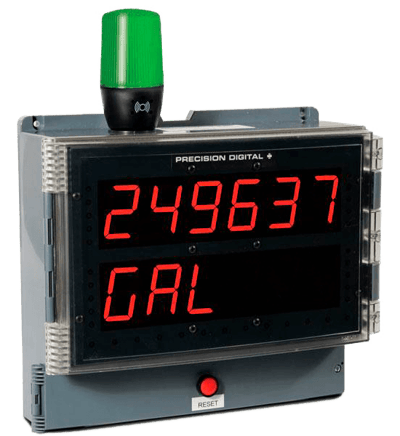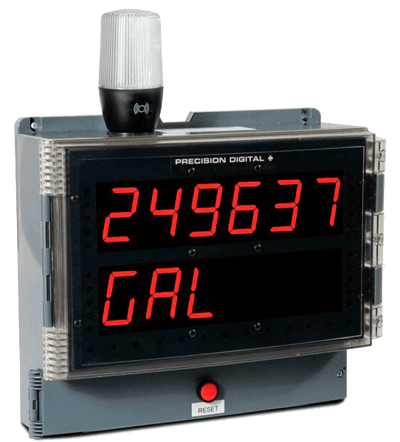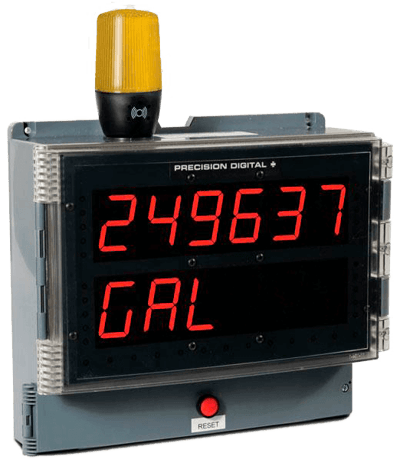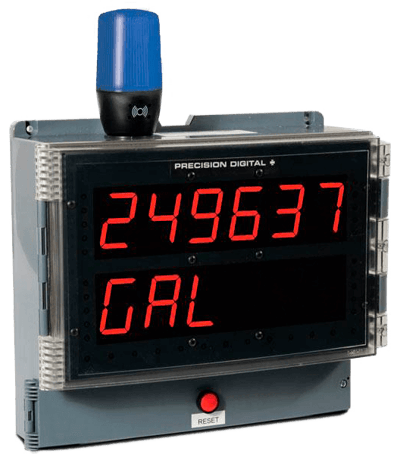 Images are representations only.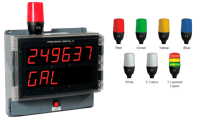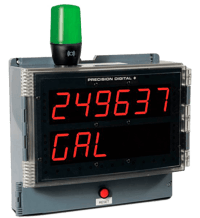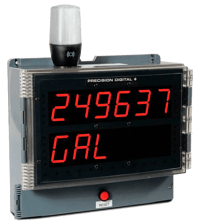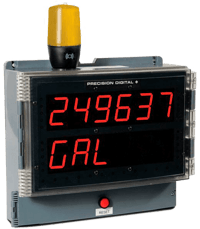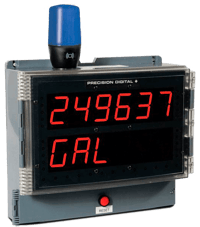 The Helios can be provided with an optional lights with built-in 85 dB horn that comes mounted and wired to the instrument or as separate items to be mounted as the user desires.

Meter is sold separately.

The MOD-PD2LH can be powered from the Helios's 200 mA transmitter power supply with enough power left over to drive most transmitters.

The Light / Horn and Reset Button do not affect the Helios's NEMA 4X rating, but do void its UL approval.

Note: The Light / Horn accessory is powered from the 200 mA transmitter power supply, so when this is installed, the meter's transmitter power is downgraded from 200 mA.

See Transmitter Power Supply specification for details.
Features
Light with Horn Mounted & Wired to Helios
Single Lights Available in Red, Green, Yellow, Blue, or White
Units with One of Five User Selectable Lights Available
Units with Three Layered Lights Available
Light / Horn Powered Directly from Helios
Light / Horn / Reset Button Mounted and Pre-Wired to Helios
Light / Horn Programmable for Variety of Reset Functions, Including:
Silence Horn at Any Time
Light Stays on Until Alarm Clears
Light Can Be Wired to Flash: Not Available on MOD-PD2LH5CB1 or Stay Steady On
IP 65 Rated
85 dB Horn
Operates from -5 to 40°C / 23 to 104°F
Specifications
Recommended for These Helios Models
PD2-6000
PD2-6001
PD2-6100
PD2-6200
PD2-6300
PD2-6400
PD2-7000
When ordered on other Helios Models user may need to re-Wire Light and Horn accessory.
Light Colors
MOD-PD2LHRB1: Red
MOD-PD2LHGB1: Green
MOD-PD2LHYB1: Yellow
MOD-PD2LHBB1: Blue
MOD-PD2LHWB1: White
MOD-PD2LH5CB1: User selectable: Red, Green, Yellow, Blue, or White
MOD-PD2LH3LCB1-RYG: 1 layer each of Red, Yellow, Green (Consult factory for other colors available).
Light Action
Can be wired to flash (Not available on MOD-PD2LH5CB1) or Stay steady on
Light / Horn Independence
Light and horn can be controlled via separate relays
Power Requirement
When Mounted remote: 24 Vdc
No additional Power Required when installed in Helios
Transmitter Power Supply (Downgraded From)
Downgraded by (MOD-PD2LH & MOD-PD2LH5CB1)
Red: 17 mA
Green: 15 mA
Yellow: 23 mA
Blue: 15 mA
White: 42 mA
Horn: 20 mA
Downgraded by (MOD-PD2LH3LCB1-RYG)
Red: 34 mA
Green: 29 mA
Horn: 38 mA
Yellow: 33 mA
Reset / Silence Button
NEMA 4X, Mounted and wired to F4 terminal on Helios
Light / Horn Mounting Connection
Hole Sizes
Light / Horn: 0.875" (22 mm)
Reset Button: 0.630" (16 mm)
Approvals & Certifications
Installation of the Light / Horn accessory voids the Helios's UL approval.
Helios's NEMA 4X rating is not affected.
Operating Temperature Range
-40° to 40° C (-40° to 104° F)