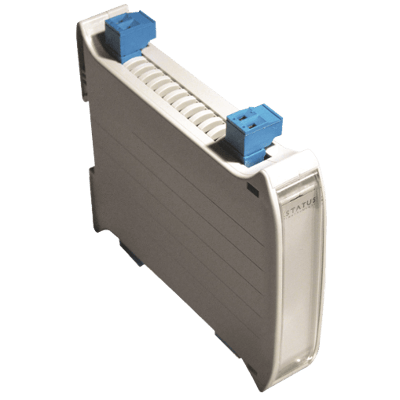 Images are representations only.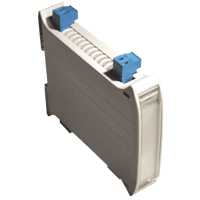 The SEM1801XTC/18022XTC Din rail temperature transmitter accepts thermocouple temperature sensors and converts the sensor output over a configured range to a standard industrial (4-20 mA) transmission signal.

Two versions are available; single or dual channel ATEX / IECEx approved for hazardous areas.

PC configuration allows the user to select TC type, Range, Filter, units, linearisation and Burnout direction, without requiring calibration equipment.

Additionally, the user may read live process data when connected to the PC (in the safe area), this allows for sensor offset, and output alignment calibration, where the user can enter values to match the actual process and therefore reducing system errors.
Features
K, J, N, E, T, R, S, L, U, B, C(W5), D(W3), G(W)
UKEX, ATEX And IECEx Approved
Single And Dual Channel Versions
Sensor Offset And Output Alignment
Isolation Input To Output
Specifications
Accuracy
(mA Output/2,000) or 5 µA whichever is greater, Drift 1 µA/°C
± 0.1 % of Full Scale ± 0.5° C (± 0.9° F) (Plus Sensor Error) - for K, J, E, N, L, U, B, C, D, W, R, S Thermocouples
± 0.2 % of Full Scale ± 0.5° C (± 0.9° F) (Plus Sensor Error) - for T Thermocouple
Cold Junction: ± 0.05° C/°C
Cold Junction: ± 0.2° C (± 0.36° F)
Ambient Temperature Range
Configuration Ambient: 10° to 30° C (50° to 86° F)
Approvals & Certifications
ATEX - CE II 1 GD Ex ia IIC T4 Ga Ex iaD 20 T135° C Da Tamb: -40° to 70° C (-40° to 158° F)
CE BS EN 61326
IEC Ex
Burn-Out
Downscale - 3.8 mA
Up Scale - 21.5 mA
Communication
Baud Rate: 1,200 bit/sec
USB 2.0
Current
2-Wire 4-20 mA Current Loop
Electrical Connectors
Screw Terminals 2.5 mm, Max.
Humidity
10 to 90 % Relative Humidity, Non-Condensing
Operating Temperature
-40° to 70° C (-40° to 158° F)
Output
2-Wire 4-20 mA Current Loop
Power
< 1 W Full Power Per Channel
Response Time
500 milliseconds
Start Up 5 seconds
Update 160 milliseconds
Sensor, Probe Type
Standard TC: C (W5) Thermocouple
Standard TC: D (W3) Thermocouple
Standard TC: E Thermocouple
Standard TC: G (W) Thermocouple
Standard TC: J Thermocouple
Standard TC: K Thermocouple
Standard TC: L Thermocouple
Standard TC: N Thermocouple
Standard TC: R Thermocouple
Standard TC: S Thermocouple
Standard TC: T Thermocouple
Standard TC: U Thermocouple
Storage Temperature
-50° to 70° C (-58° to 158° F)
Supply Voltage
Loop Supply: 10-30 Vdc Per Channel
System Requirements
Equipment: PC Running Windows® XP or Later
Equipment: USB Configurator
Temperature Range
Cold Junction: -40° to 85° C (-40° to 185° F)
Thermal Drift
Thermocouple Offset 0.1° C/°C
Thermocouple Offset: 0.05° C/°C of Span