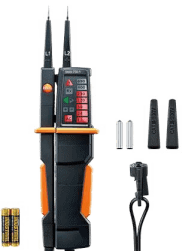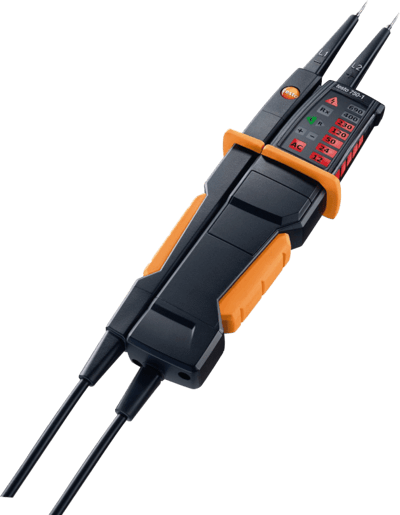 Images are representations only.
Testo 750-2 - Digital Voltage Tester with GFCI Test
Brand:
Testo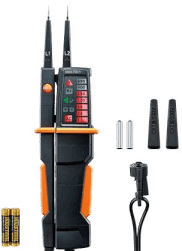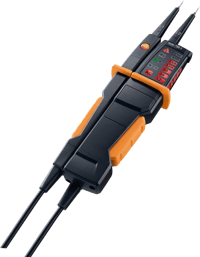 The Testo 750-2 includes a single probe voltage tester, built-in flashlight, and GFCI test function.

The 750-2/-3 can perform GFCI Circuit tests on AC outlets. When performing a GFCI circuit test, a 35 mA load is applied to the circuit.

The Testo 750 vibrates ensuring that the GFCI circuit test is active.

The Testo 750 voltage testers are the first instruments to include an all-around viewable LED voltage indication.

All three models include low input impedance, phase sequence, continuity test, and meet CAT III 1000 V CAT IV 600 V safety standards.

Testo's history of efficiency, innovation, and quality now extends into the entire electrical lineup.

Once again, Testo brings high value, feature-packed products to the HVAC contractor market.
Features
GFCI Test Function
Single probe voltage testing
Patented all-around viewable LED voltage bar indication
Phase sequence test for determining motor rotation and polarity detection for VDC measurements
Specifications
Delivery Scope
Testo 750-2 Digital Voltage Tester with Low Impedance, Continuity, and Phase Sequence with GFCI Test, and Flashlight includes Batteries, Measuring Tip Protector, and Measuring Tip Caps
DC Voltage
Measuring Range: 12 to 690 V
Accuracy: According to DIN EN 61243-3:2011
AC Voltage
Measuring Range: 12 to 690 V
Accuracy: According to DIN EN 61243-3:2011
Dimensions
10.6 x 2.8 x 1.4 in. / 270 x 70 x 35 mm
Operating Temperature
14.0°F to 122.0°F / -10°C to +50°C
Standards
EN 61243-3; EN 61326-1; EN 61010-1
Storage Temperature
5.0°F to 140.0°F / -15°C to +60°C
Overvoltage Category
CAT IV 600V; CAT III 1000V
Instrument Measurement Functions
Continuity Testing: Yes
RDC/RC Trigger Function: Yes
Rotating Magnetic Field Testing: Yes
Single Pole Phase Testing: Yes
Measuring Point Illumination: Yes
Ideal for Voltage Testing


Clear, All-round LED Display, Large Fibre Optic, Torch for Measuring Point Illumination, Anti-Slip Ring and Ergonomic Handle, RCD Trigger Function, Vibrating Load Buttons

Overview of Applications


Test Electrical Circuits or Systems for Voltage or De-energization (According to DIN EN 61243-3:2010)
Single Pole Voltage Testing to Determine Whether Conductors are Live
Checking the Rotating Magnetic Field
Checking RCD Circuit Breakers