Images are representations only.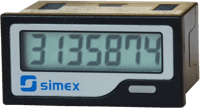 The SLE-42 series is a self-powered LCD totalizers in a small form.

With a panel size of DIN 48 x 24 mm, it is perfect for limited space installations. It is powered by a replaceable lithium battery that lasts approximately 7 years, no external power required.

The SLE-42 series is available in 7 digits with 8 mm height figures with front reset or remote reset options.

Input signal includes dry contact, open collector, voltage, wide range voltage at maximum count speed up to 30 Hz.

The front panel protection is IP 54 and wiring connection is easily done via the terminal block connector, making it secure and reliable.
Features
Up-down totalizer
Small Panel Size DIN 48 x 24 mm
Self-powered - Lithium Battery
Input: Dry Contact / OC / Voltage
Remote Reset or by Front Button
7 Years Battery Lifetime
Specifications
Input Type
Contact / Open Collector / Voltage - NPN
Voltage - V
Input Levels
Dry contact/OC/NPN: low 0.8 V, high 2...30 V, wide-range voltage input: low 0...10 Vac/dc, high 20...250 Vac/dc
Input Frequency
Maximum 30 Hz: Dry Contact / Open Collector / NPN or Maximum 20 Hz: Wide-range Voltage Input
Power Supply
3.6 V 1/2AA Lithium Battery
Documentation
Certifications and Approvals