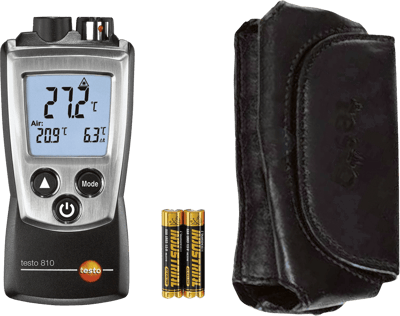 Images are representations only.
Testo 810 - Pocket-Sized Temperature Measuring Instrument
Brand:
Testo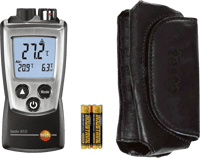 The Testo 810 infrared thermometer allows for the simultaneous measurement of the air temperature and surface temperature of the object being measured – without contact.

This infrared temperature measuring instrument automatically displays the temperature difference.

This makes it particularly suitable for use in the heating, ventilation, and air conditioning trades.

The Testo 810 simultaneously measures ambient air and surface temperature via infrared sensors, at the touch of a button.

For example, the Testo 810 thermometer can take the non-contact surface temperature of a radiator or air vent, and compare it with the air temperature of the room at the same time.

The Testo 810 features a 1-point laser sighting and 6:1 optics ratio; it's also very compact, convenient, and easy to operate.
Features
Infrared measurement with 1-point laser sighting and 6:1 optics ratio
Display of differential temperature, such as between a window and air
Hold function and min./max. values
Display illumination
Specifications
Delivery Scope
Testo 810 Infrared Thermometer with Integrated NTC Temperature Sensor, including Protective Cap, Calibration Protocol, Belt Pouch, and Batteries
Weight
3 oz. (incl. battery and protective cap) / 90 g (incl. battery and protective cap)
Dimensions
5 x 2 x 1 in. (incl. protective cap) / 119 x 46 x 25 mm (incl. protective cap)
Operating Temperature
14° F to 122° F / -10° C to +50° C
Temperature - NTC
Measuring Range: 14° F to 122° F / -10° C to +50° C
Accuracy: ± 0.9° F / ± 0.5° C
Resolution: 0.1° F / 0.1° C
Measuring Rate: 0.5 sec
Temperature - Infrared
Measuring Range: -22° F to 572° F / -30° C to +300° C
Accuracy: ± 3.6° F (-22° F to +212° F) / ± 2.0° C (-30° C to +100° C) | ± 2 % of mv Remaining Range
Measuring Rate: 0.5 sec
Infrared Resolution: 0.1° F / 0.1° C