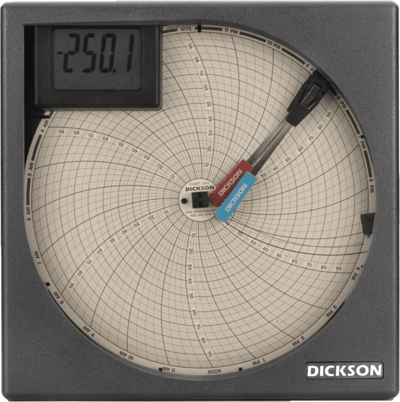 Images are representations only.
8″ Universal Input Chart Recorder
Brand:
Dickson
Create your own chart recorder with this 8″ - 203mm high resolution instrument that accepts a number of voltage inputs.

It is easy to record whatever variable you want, simply connect your transmitter to the ET855 and you are ready to go.
Features
0-20mA, 4-20mA, 0-5Vdc, 1-5Vdc
Display with Min/Max
Audio/Visual Alarms
Varying Output Ranges Dependent on Chosen Charts
Specifications
Recorder Only Accuracy
Display Only: 2% Full Scale
Accuracy Chart 3% Full Scale
Alarm Type
Audio/Visual on High/Low Limits
Ambient Operating RH Conditions
Ambient Operating Temperature Conditions
32.0 to 122.0F / 0.0 to 50.0C
Display Dimensions Height
Display Resolution
.001
.01
.1
1
Determined by Range Selected
Enclosure
Rugged Black ABS Case
Polycarbonate Door
Aluminum Dial
Included Accessories
AC Adapter
1 Red Pen
1 Blue Pen
9V Battery and Quick Start Guide
Charts Sold Separately
Maximum Input Voltage
5 Volts
Instrument Records Direct Current - DC
Mounting Options
Free Standing
Wall Mounted
Power Source
120 to 240 VAC
12 VDC - INTL Fittings Available
AC Adapter
Response Time
20 Seconds to Full Scale - May Vary per Transmitter