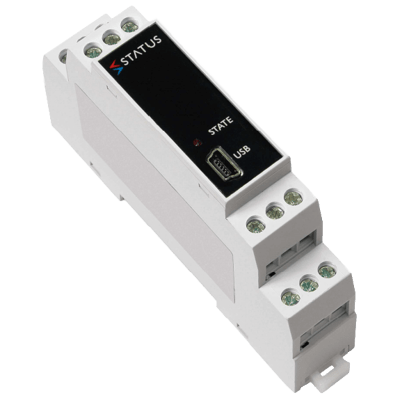 Images are representations only.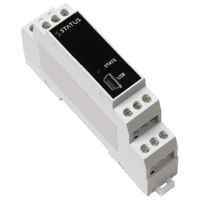 The SEM1600VI is a "smart" powered isolator/conditioner that accepts any voltage signal between (-50 and 50) Vdc or any current signal between (-50 and 50) mA.

The output stage offers either voltage, bipolar voltage or current re-transmission signals.

The retransmission signal can be ranged to a scale anywhere within the input process range.

A transmitter power supply is provided on both input and output meaning the products can accept sink or source applications.

There are a number of free software tools available including 22 segment user linearisation / profiling, maths functions and input signal damping. These enable you to configure the product exactly to your requirements.
Features
Accepts Internal and External Powered Current Loops On Input and Output
+/- 50V DC or 50 mA Input
Current, Voltage Or Bipolar Voltage Output
Powered ( 10 to 32) V AC / (10 to 48) V DC Supply
22 Segment User Linearisation
View Live Data On An Android Phone Or Tablet
Specifications
Accuracy
Current Input: -22 to 22 mA ± 5 µA
Current Input: -50 to 50 mA ± 10 µA
Output Current: (mA Out/2,000) or ± 5 µA whichever is greater
Output Voltage: ± 5 mV
Voltage Input: -22 to 22 V ± 5 mV
Voltage Input: -50 to 50 V ± 10 mV
Ambient Temperature Range
10° to 30° C (50° to 86° F)
Approvals & Certifications
Communication
Baud Rate: 19,200 bit/sec
USB 2.0
Current
Current Drive: ± 2 mA
Current Source & Sink: 0-21.5 mA
Electrical Connectors
DIN 43880
Terminals 2.5 mm, Max.
Humidity
10 to 90 % Relative Humidity, Non-Condensing
Indication
LED - (Green when Output -0.1 to 100.1 %), (Red = Input/Output Error)
Input Impedance
Current Input: < 30 ohms
Voltage Input: 1 Megaohm
Isolation
Supply to Input to Output 500 Vdc
Materials of Construction
Operating Temperature
-30° to 70° C (-22° to 158° F)
Output
0 to 10.1 V
-10.1 to 10.1 V
Output Load
Current Source: Max.
Minimum 5,000 ohms at 10 V
Power Supply
10-32 Vac Protected by Internal 500 mA Resettable Fuse
10-48 Vdc
Response Time
400 milliseconds
Update 300 milliseconds
Warm-Up 2 minutes
Storage Temperature
-30° to 70° C (-22° to 158° F)
System Requirements
USB Configurator
Windows® XP
Thermal Drift
< ± 0.01 % of FSD/°C
1 μA/°C