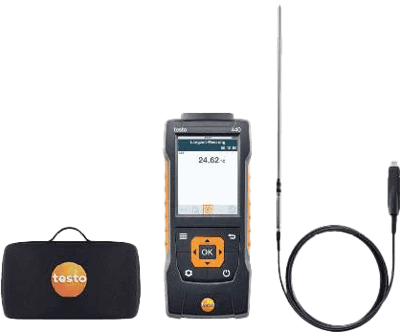 Images are representations only.
Testo 440 - Laboratory Kit
Brand:
Testo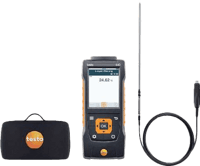 Kit for carrying out measurements in laboratories: The Testo 440 air velocity & IAQ measuring instrument and the glass-coated, digital laboratory probe (Ø 6 mm) with Pt100 temperature sensor are all safely stowed away in the case.

So you can get down to work straight away!
Features
Intuitive: Structured measurement menu for long-term measurements
Precise: Laboratory probe with Pt100 sensor for accurate measurement results
Reliable: Internal data storage and USB port for flexible data export
Adapted to the challenges that you face: Interchangeable probe coating made of laboratory glass (Duran) for safe use in aggressive media
Specifications
Delivery Scope
Testo 440 air velocity & IAQ measuring instrument, 3x AA batteries, USB cable and calibration protocol (0560 4401)
Glass-coated digital Pt100 laboratory probe (0618 7072)
Basic case for testo 440 and 1 probe
Temperature - NTC
Measuring Range: -40.0° F to 302.0° F / -40° C to +150° C
Accuracy: ± 0.7° F (-40° F to -13.2° F) / ± 0.4° C (-40° C to -25.1° C) | ± 0.5° F (-13° F to 166.8° F) / ± 0.3° C (-25° C to +74.9° C) | ± 0.7° F (167° F to 211.8° F) / ± 0.4° C (+75° C to +99.9° C) | ± 0.5 % of mv (Remaining Range)
Resolution: 0° F / 0.1° C
Temperature - TC Type K (NiCr-Ni)
Measuring Range: -328.0° F to 2498.0° F / -200° C to +1370° C
Accuracy: ± (0.5° F + 0.3 % of mv) / ± (0.3° C + 0.3 % of mv)
Resolution: 0.1° F / 0.1° C
Weight
8.8 oz. / 250 g
Glass-Coated Probe: 39 g
Dimensions
6.1 x 2.6 x 1.3 in. / 154 x 65 x 32 mm
Glass-Coated Probe: 250 x 6 x 50 mm
Operating Temperature
-4.0° F to 122.0° F / -20° C to +50° C
Glass-Coated Probe: 23° F to 122.0° F / -5° C to +50° C
Connectable Probes
1 x Digital Probe with Cable or 1 x Temperature NTC TUC
1 x Digital Bluetooth Probe or Testo Smart Probe
1 x Temperature TC Type K
Product Colour
Black/Orange
Probe: Black
Battery Life
12 h (Typically Vane Measurement)
Storage Temperature
-4.0° F to 122.0° F / -20° C to +50° C
Glass-Coated Laboratory Probe: -4.0° F to 140.0° F / -20° C to +60° C
Product/ Housing Material
Temperature - Pt100
Measuring Range: -50° C to +400° C
Accuracy: ± (0.3° C + 0.3 % of mv) (-50° C to +300° C) | ± (0.4° C + 0.6 % of mv) (+300.01° C to +400° C)
Resolution: 0.01° C
Reaction Time: t₉₀ < 45 s
Range of Probes for Cleanrooms and Laboratories