Images are representations only.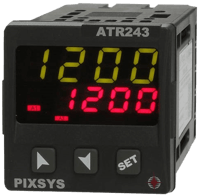 This multifunction controller offers 2 to 4 setpoints.

It has one Analog input which is configurable for up to 18 different sensors/ signals.

The 2 to 4 outputs are configurable as relays (including Open/Close logic for motorized valve control), SSR, 4 to 20 mA and 0-10 V (either for control or re-scalable retransmission of the process variable/setpoint).

The built-in switching power supply has an extended range of 24-230 Vac/Vdc and does not require any jumper setting.

The control modes are ON/OFF, PID + Autotuning and Heating/Cooling PID with a neutral zone.
Features
48 x 48 mm (1/16 DIN) Panel Mounted PID Controller for Single-Loop Control
Highly Configurable: One Model Suits Temperature, Pressure, Flow, Level, pH, Humidity, and Many Other Process Measurements
Dual 4-digit LED Displays
Universal Analog Input for Over 15 Different Types of Sensor Including Current, Voltage, Thermocouple, RTD, Thermistor or Potentiometer
Relay, SSR, mA and V Outputs, Configurable for Control, Alarm or Retransmission
RS485 Modbus RTU Communications (Optional)
Load Monitoring Function (Loop Break Alarm) with Current Transformer (Optional)
Wide Supply Voltage Range 24-230 Vac/dc, Galvanically Isolated
CE Marked and UL Recognized
Specifications
Accuracy
0.2 % ± 1-Digit for V/mA
0.5 % ± 1-Digit for TC/RTD
Applications
Cold Stores
Current Control
Dryers
Injection Molding
Leather & Footwear Machinery
Load Cell Control
Metal Working Furnaces
Motorised Valve Control
Pharmaceutical Industry
Plastics Extrusion
Refrigeration Equipment
Remote Control Via RS-485 Modbus
Signal Converter
Approvals & Certifications
Communication
Baudrate: 57.6 Kbps
Modbus RTU
RS-485
Control Functions Characteristics
Current
50 mA - Input TA for Loop Break Alarm
Display
4-Digit Dual LED
8 Red Status LED
Environmental Protection
IP20 - Terminal Blocks
IP30 - Housing
IP54 - Front Panel
IP65 - Gasket
Humidity
35 to 95 % Relative Humidity
Input
0-10 V
0-20 mA
0-40 mV
4-20 mA
Operating Temperature
0° to 45° C (32° to 113° F)
Output
0-10 V
12 V
30 mA
4-20 mA
RS-485 Modbus RTU
Relay Output
2 Relays 5 A Resistive or 1 Relay + 1 Logic SSR
3 Relays 5 A Resistive + 1 Logic SSR
RTD Type
Ni100
Potentiometer ≤ 6 or ≤ 150 kiloohms
Pt100
Pt1000
Pt500
Sensor, Probe Type
J Thermocouple
K Thermocouple
NTC 10k
PTC 1k
RTD
R Thermocouple
S Thermocouple
Supply Voltage
24-230 Vac/dc ± 15 %, 50/60 Hz