Images are representations only.
HD45 / HD46 Series - RH, Temperature and CO2 Transmitters
Brand:
Delta OHM S.R.L.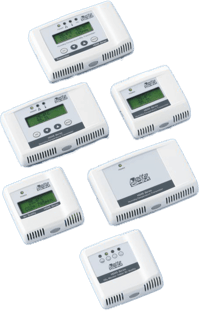 Transmitters, indicators and controllers for Relative Humidity, Temperature, Carbon Dioxide (CO2), Dew Point Temperature.

The instruments of the series HD45 and HD46 are transmitters, indicators and controllers, they measure and control, depending on the model - Relative humidity (RH), Ambient temperature (T), Carbon dioxide (CO2), Dew point temperature (DP, calculated measurement)

They are suitable for monitoring the air quality in indoor environments.

Typical applications include checking air quality in all buildings occupied by people (schools, hospitals, auditoria, work places, canteens, etc.).

This analysis allows the managing of conditioning plants (temperature and humidity) and ventilation (recycle air/hour) in order to reach a double purpose: getting a good air quality in accordance with ASHRAE and IMC regulations and energy saving.

The measurement of RH (Relative Humidity) is obtained with a capacitive sensor.
78 models matching criteria
Specifications
Sensor Type
RH: Capacitive
T: NTC 10 Ω
CO₂: Dual wavelength NDIR
Measuring Range
RH: Measuring Range 0-100 %
T: -30° C to 85° C
CO₂: 0-5000 ppm