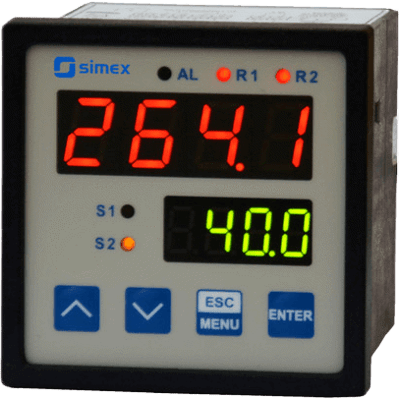 Images are representations only.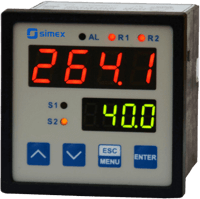 The SRT-77 temperature meter has one input: thermoresistance: Pt100/500/1000 or thermocouple: K, S, J, T, N, R, B, E.

Measurement is linearised by the polynomial characteristics.

The device with thermocouple input has additional measurement range: -10...90 mV, mainly for diagnostics of measurement circuits.

The main advantage of regulator are two rows of display.

The first one presents measuring value, second one - programmed values: max and min. 1 or 2 relay - or OC, outputs make it possible to control heating / cooling processes.

The RS-485 enables data transmission in production process monitoring systems.

The REL / OC control outputs can adjust the level of measured signal and are controlled according to one or two threshold values.

The meter can be configured with the local keyboard or free S-Config software via the RS-485 communication port.
Features
Process Meter with 2 Displays
inputs: Thermoresistance or Thermocouple
0, 1 or 2 Relay - or OC Outputs
Power Supply Output: 24V DC
RS-485 / Modbus RTU
Automatic Recognition of 3 and 4-conductor Connection - RTD Inputs
Automatic Compensation of TC Cold Ends Temperature
Free Configuration Software S-Config
Specifications
Type of Input
Thermoresistance
Thermocouple
Power Supply
24 Vac/dc
85 V ÷ 260 Vac/dc
12 Vac/dc
Options
No Options
Integrated Frame for Panel Cut-out Sealing
Operating Temperature -20° C ÷ +50° C
Integrated Frame for Panel Cut-out Sealing + Operating Temperature -20° C ÷ +50° C