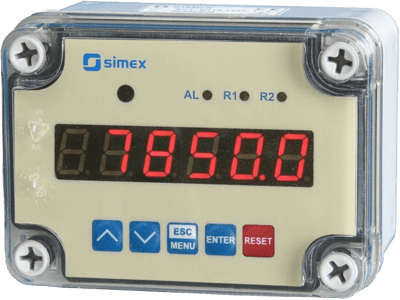 Images are representations only.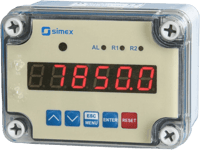 The SLIK-N118 universal, programmable counters are encased in a tight, wall-mounted housing: IP 67 and equipped with two independent counting inputs that can operate in various configurations: pulse or quadrature.

Additional programmable input can change basic function of counting inputs: addition or subtraction of pulses from inputs, change the direction of counting or hold counting without clearing.

The SLIK-N118 counter features an independent reset input.

The REL / OC outputs with programmable thresholds can be used to control external equipment.

The counter may be configured with no need to open the case, by using the remote controller or with free S-Config software via the RS-485 communication port.
Features
Multi-purpose Counter in Wall Mounted IP 67 Case
Batching Function
2 Pulse Counting Inputs + 1 Programmable Function Input
1 Counter Reset Input
0 or 2 REL / OC Outputs
Digital Debouncing Filter
4 Counter Reset Sources - Manual, Ext, Auto, Modbus
Free Configuration Software S-Config
Specifications
Input Type
Pulse: 2 x Counting, 1 x Programmable, 1 x Reset
Input Levels
Low: 0...1V, High: 10...30 V
Input Frequency
Electronic: 10 kHz - Standard, 5 kHz - Quadrature, Contact: Max. 90 Hz - Adjustable Filter
Output Type
Open Collector: I=30 mA, U=30 Vdc, P=100 mW
Relay I=1A, U=30 Vdc/250 Vac (cosø=1)
Power Supply
16...35 Vac, 19...50 Vdc
85..260 Vac/dc
11,4...15 Vac/dc
Display
LED, 6 x 13 mm, red
LED, 6 x 13 mm, green
Transmission Parameters
1200...115200 bit/s
8N1 / 8N2