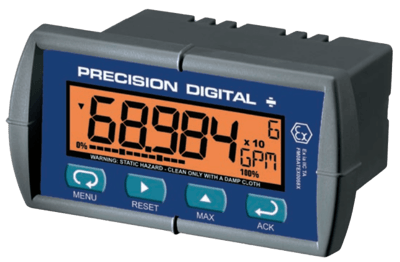 Images are representations only.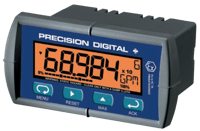 The Loop Leader PD689 is an Intrinsically Safe and Non-incendive, loop-powered, 1/8 DIN flow rate/totalizer designed for hazardous process control applications.

The fact that this meter is loop-powered means that there is no need to run additional, costly power lines into a hazardous area; the meter gets all of the power it needs from the 4-20 mA loop.

The PD689 loop-powered rate/totalizer is built in a shallow-depth case with an FM Type 4X front and features loop-powered backlighting and a wide -30 to 65°C operating temperature range.

It doesn't matter if it's indoors or outdoors, in bright sunlight or a dimly lit plant, or in an area that is wet, dirty, hot, or cold, the Loop Leader can go just about anywhere.

The PD689 can be installed in just about any hazardous area environment under the FM, CSA, and ATEX standards.
Features
4-20 mA Input
5-Digit LCD, 0.6" (15.2 mm) High
Overflow Displays Total up to 8 Digits
Programmable Alternating Rate/Total Display
FM Type 4X, IP65 Front
Shallow Depth Case 3.2" Behind Panel
2 V Drop (5.7 V with Backlight)
Loop-Powered Backlight Standard
Custom Engineering Units & Bargraph
Square Root or Programmable Exponent
Non-Volatile Memory - No Battery Needed
Maximum & Minimum Display
Operating Temperature Range: -20 to 65°C
Intrinsically Safe & Non-Incendive
CE, ATEX, FM, and CSA Certified
Open Collector Alarm or Pulse Output
HART Protocol Transparent
Specifications
Approvals & Certifications
ATEX, II 1 G, Ex ia IIC T4
CSA Class I, Div. 1, Groups A, B, C, D Class II, Div. 1, Groups E, F, G, Class III, Div. 1, Class I, Zone 0, Group IIC, T-Code = T4. Non-Incendive: Suitable for use in Class I, Div. 2, Groups A, B, C, D Class II, Div. 2, Groups FG, Cla
FM Class I, Div. 1, Groups A, B, C, D Class II, Div. 1, Groups E, F, G, Class III, Div. 1, Class I, Zone 0, Group IIC, T-Code = T4. Non-Incendive: Suitable for use in Class I, Div. 2, Groups A, B, C, D Class II, Div. 2, Groups FG, Clas
Display
0.60" High
5-Digit LCD
7-Segment
Operating Temperature
-20° to 65° C (-4° to 149° F)
Storage Temperature
-40° to 85° C (-40° to 185° F)