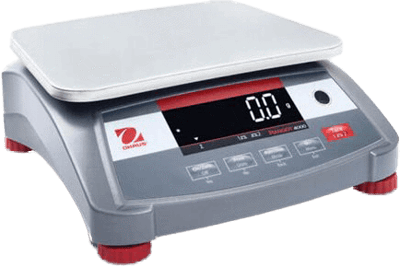 Images are representations only.
The multipurpose Ranger 4000 is the right tool for industrial weighing applications in which value is important but quality, durability, and functionality cannot be compromised.

Portable with die-cast metal housing and a rechargeable battery, this scale is equipped with seven application modes that can provide results for many industrial weighing and measurement needs.
8 models matching criteria
Specifications
Platform Size
8.9 in x 11.8 in (225 mm x 300 mm)
Power
AC Power (Included), Rechargeable Battery (Included)
Battery Life
100 Hours with Rechargeable Battery
Communication
2nd RS-232 (Available as an Accessory)
Ethernet (Available as an Accessory)
RS-232 (Included)
USB (Available as an Accessory)
Dimensions
12.9 in x 4.8 in x 12.4 in (327 mm x 122 mm x 315 mm) (LxHxW)
Tare Range
To capacity by subtraction
Units of Measurement
Gram
Kilogram
Pound
Ounce
Pound:Ounce
Working Environment
14° F - 104° F, 85 %RH, non-condensing (-10° C - 40° C, 85 % RH, non-condensing)
Weighing
Parts Counting
Check weighing
Percent Weighing
Animal/Dynamic Weighing
Display Hold
Accumulation