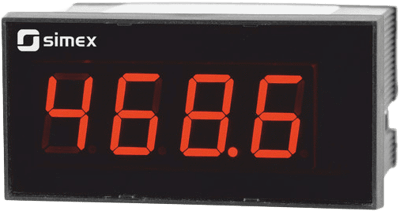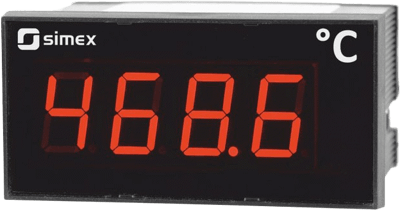 Images are representations only.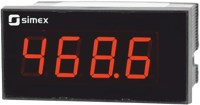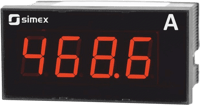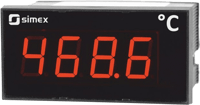 The SWE-94-U meter is equipped with one universal input: 0/4-20 mA, 0-10V, 0-150 mV, RTD: Pt 100/500/1000 or thermocouple: K, S, J, T, N, R, B, E.

Temperature of cold ends is compensated automatically.

RTD and TC inputs are fully linearised. It is allowed to use only one input at the same time.

SWE-94-U enables user to select a characteristic conversion of several kinds: linear, square, square root, user defined.

The device is equipped with RS-485 / Modbus RTU communication interface.

Over more communication interface RS-485 enables data transmission in any monitoring system equipped with Modbus RTU protocol.

The meter can be ordered in 3 power supply versions.

The meter can be configured with IR remote controller or free S-Config software via the RS-485 communication port.
Features
Low-cost Meter with a Large, 20 mm High Display
Universal Input: 0/4-20 mA, 0-10V, 0-150 mV, RTD or TC
RS-485 / Modbus RTU
Brightness Adjustable in 8 Steps
Signal Peak Value Detection
All Parameters are Freely Programmable with Remote Controller or free Configuration Software S-Config
Specifications
Input Range
0/4...20 mA
0/1...5 V, 0/2...10 V
0...60 mV, 0...75 mV, 0...100 mV, 0...150 mV
Pt100, Pt500, Pt1000: -100...+600° C
TC K: -200...+1370° C, S: -50...+1768° C, J: -210...+1200° C, T: -200...+400° C, N: -200...+1300° C, R: -50...+1768° C, B: +250...+1820° C, E: -200...+1000° C
0...300 Ω, 0...3kΩ
Power Supply
110 Vac
230 Vac
10…30 Vdc
Transmission Parameters
1200...115200 bit/s
8N1 / 8N2
Protection Class
IP 40: Front
IP 20: Case and Connection Clips
Optional Integrated Frame for Panel Cut-out Sealing
Documentation
Certificaitons and Approvals
Datasheet
Manual