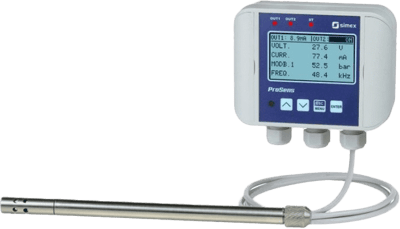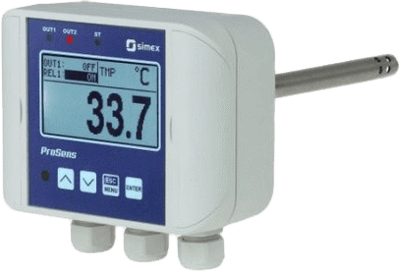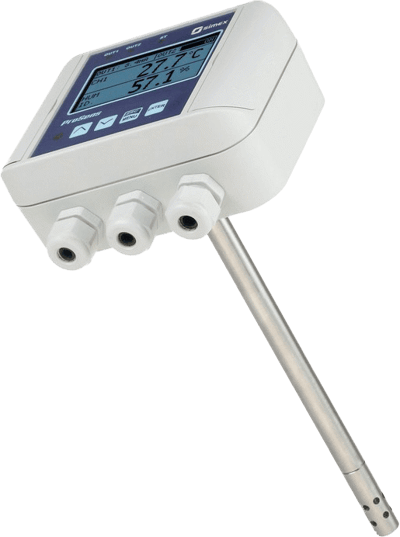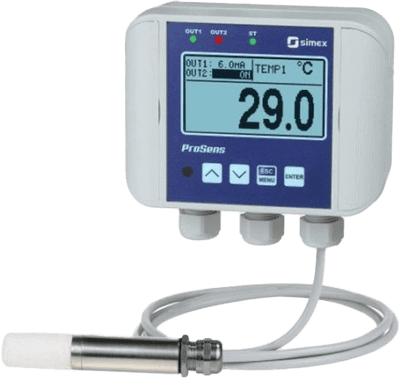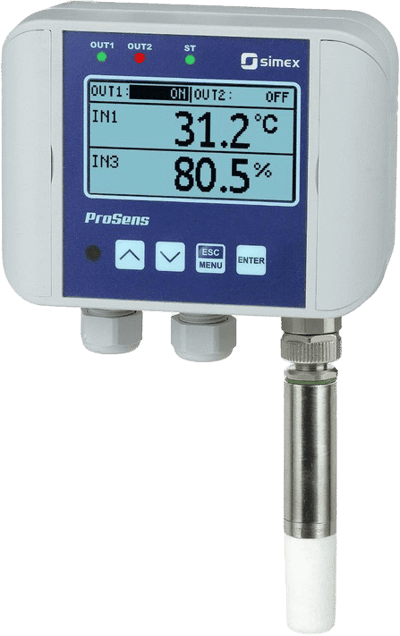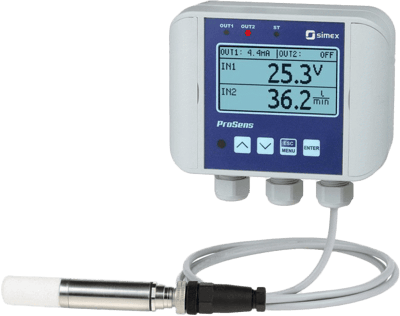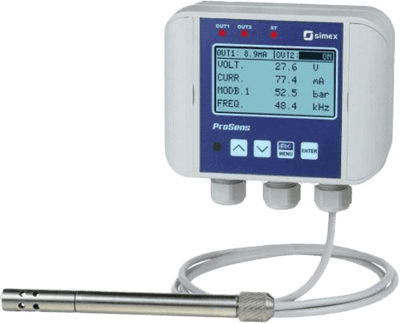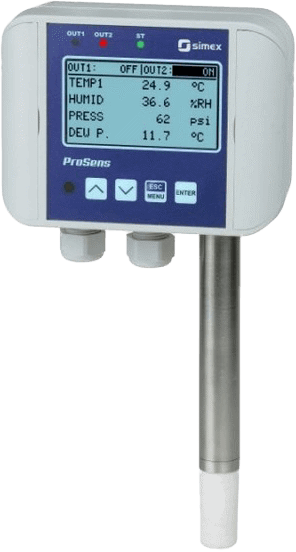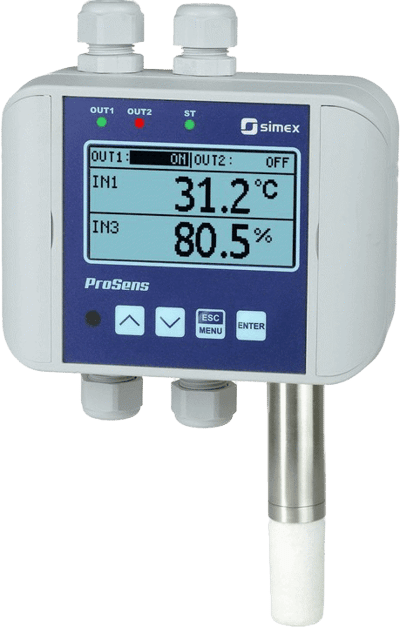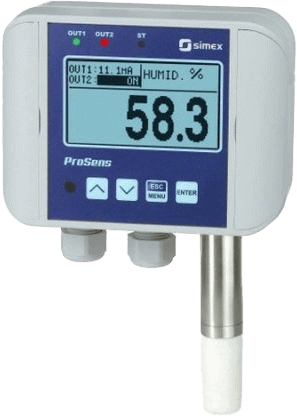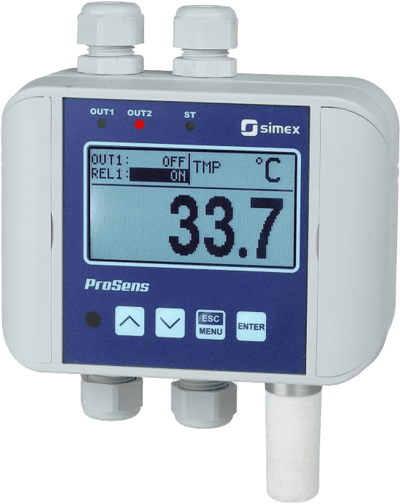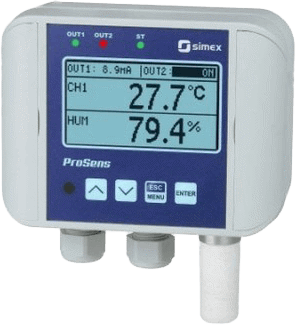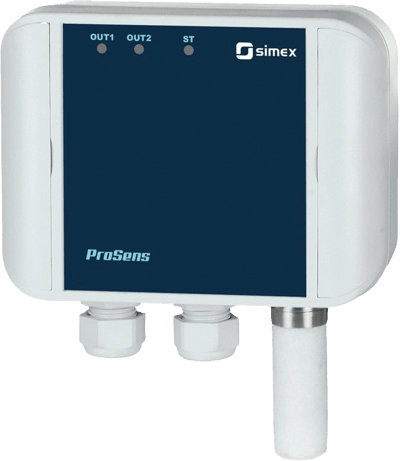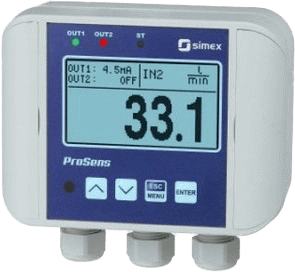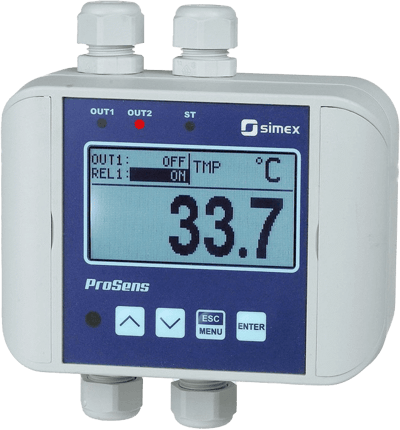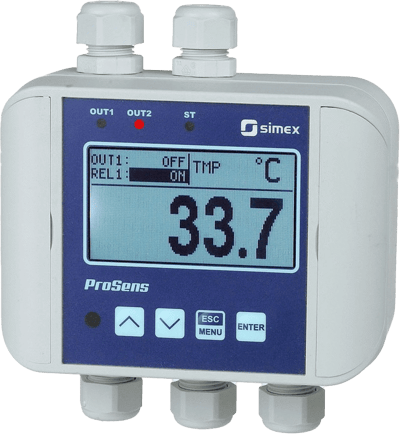 Images are representations only.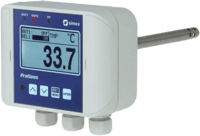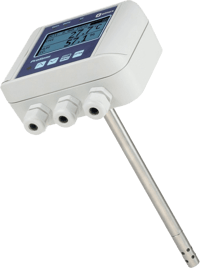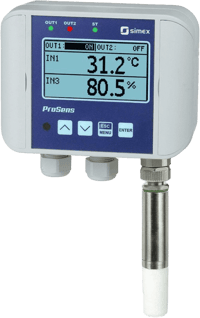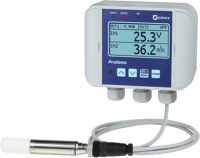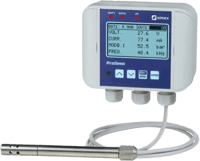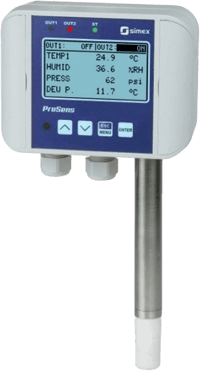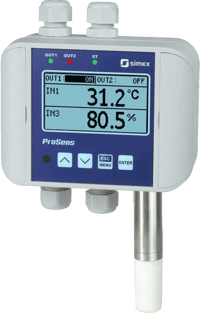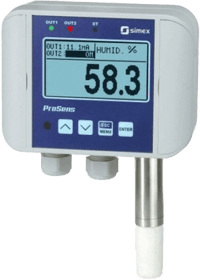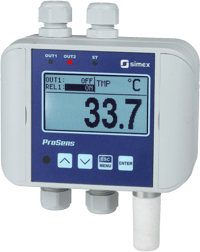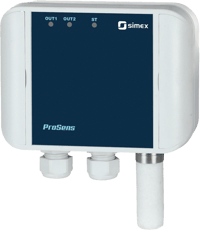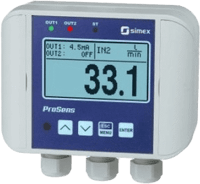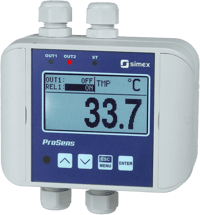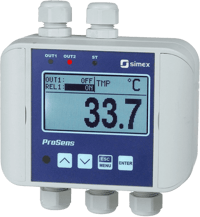 ProSens is a new line of modern industrial devices, which integrates transmitters, displays, meters and controllers functionalities.

Using the latest miniaturisation technologies these compact devices are able to be equipped with two independent universal inputs, two binary or two analogue outputs, as well as communication port RS-485 with Modbus protocol.

Within the ProSens range, models 200 and 400 have integrated temperature and relative humidity sensor.

As well as an exceptionally wide working temperature range (-30 ÷ +120°C) they are also equipped with mathematical functions, which make it possible to transform measured values into others, e.g. to calculate dew point, sum or difference of two measured values.

A large built-in display and output signals mean that the ProSens units find applications in control systems.

There are many industrial applications, where ProSens can act as stand-alone controller.

It can also cooperate with master devices via Modbus protocol, being part of big network, which makes it perfect device for distributed monitoring system.
Features
1 or 2 Measuring Channels Available, with or without a Probe
Integrated, Separable or Cable Probes Made of 316L Steel, Used for Temperature or Temperature and Humidity Measurements
Replaceable Filter Made of PTFE or 316L Mesh, 25 μm
Universal Inputs of a Very Wide Spectrum of Analogue Signal Types: I, U, RTD, TC
Binary and Analogue Outputs for Indicating and Controlling: 1 or 2 E REL, I, U
Very Clear 2.9'' LCD Display
Indication of 1, 2, or 4 Parameters on One Screen
Individual Descriptions of Measuring Channels 3
Optional Elaboration of Personalized Graphic Units, Displayed at Measurements - e.g.: m , l/h, kPa, °F, etc.
Standard Equipment: RS-485 Modbus RTU Interface for Integration with Super Ordinate Visualization or Control Systems
Device Configuration Performed by Means of Local Buttons, Optional Remote Controller or Free S-Config 2 Software
Operating Temperature: -30°C ÷ +80°C
IP Rate Protection: IP 67 - Version without Display, IP 65 - Version with Display
Specifications
Probe Version
Without Probe
Radial, Ø 18 mm, L=40 mm
Radial, Ø 18 mm, L=90 mm
Radial, Ø 18 mm, L=145 mm
Axial, Ø 12 mm, L=200 mm
Axial, Ø 12 mm, L=300 mm
Radial Connector, No Cable, Ø 18 mm, L=90 mm
Cable, Ø 18 mm, L=90 mm
Cable, Ø 12 mm, L=200 mm
Cable, Ø 12 mm, L=300 mm
Cable Length
0.5 m
1 m
1.5 m
2 m
2.5 m
3 m
Radial Connector, No Cable
Connector and Cable Type
Gland, PUR Covered, Operating Temperature -30 ÷ +80° C
Connector for Ø 18 mm Probe, TPU Covered, Operating Temperature -30 ÷ +80° C
Gland, TPE Covered, Operating Temperature -30 ÷ +120° C
Connector for Ø 18 mm Probe, TPE Covered, Operating Temperature -30 ÷ +120° C
Measurement 1
Universal Input: I, U, RTD, TC - without Probe
Temperature Probe
Temperature and Humidity Probe
Measurement 2
None
Universal Input: I, U, RTD, TC
Outputs
None
2 x E REL
1 x AO: 0/4-20 mA, Active, Non-Isolated + 1 x E REL
1 x AO: 4-20 mA, Passive, Isolated + 1 x E REL
1 x AO: 0-10 V, Active, Non-Isolated + 1 x E REL
2 x AO: 0/4-20 mA, Active, Non-Isolated
2 x AO: 4-20 mA, Passive, Isolated
2 x AO: 0-10 V, Active, Non-Isolated
Display
None
LCD, 128 x 64 Pixels
Number of Available Glands
Food Processing Industry
Building HVAC Automation
Warehouses, Cold Rooms
Glasshouses, Breeding
Factories and Manufacturing
Museums, Archives, Galleries
Server Rooms, Air-conditioned Rooms
Weather Stations