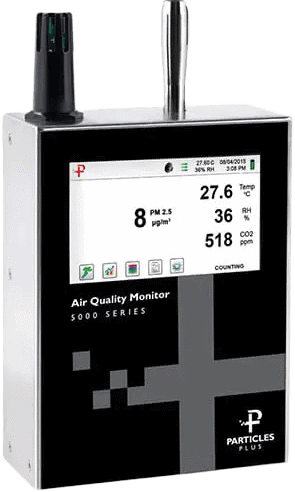 Images are representations only.
Models 5301-AQM1 and 5301-AQM2 Indoor Air Quality Monitors
Part Number:
RM-5301AQM
Brand:
Particles Plus, Inc
Model 5301-AQM1 Air Quality Monitor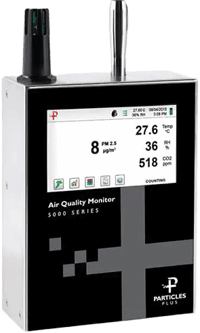 The Particles Plus® 5301-AQM1 and 5301-AQM2 Remote Air Quality Monitor measures and displays particle mass concentrations for PM1, PM2.5, PM5 and PM10 including temperature, relative humidity, CO2 and TVOC in the 5301-AQM2.

This wall-mounted instrument is the most versatile remote air quality monitor available for fixed installations.

The advanced power management and the industry's first sleep mode, allows for long intervals between samples over extended and unattended operations.

The AQM Series can easily integrate into a building automation and facility monitoring system via Ethernet, USB or optional Wireless 802.11 b/g, RS485 or RS232.

The 5301-AQM1 and 5301-AQM2 report and display 6 user-selectable particle size channels, as well as Carbon Dioxide: CO2, temperature, and relative humidity.

The instrument monitors PM1, PM 2.5, PM5, PM 10 and any other PM size value the user specifies with an easy-to-use Channel Management control panel.

The instrument also monitors flow, sensor status, date of last calibration, serial number, laser on-time, and date of manufacture for easy maintenance and warranty management.

The remote monitor operates using a long-life internal 0.1 CFM pump.

View data and generate environmental reports real-time on screen, via printer or USB key, through the versatile output options, or export to Particles Plus® Instrument Management Software during monitoring system or network failure.

Particles Plus® instruments can be controlled and monitored remotely via web browser from any PC, tablet or smartphone supporting up to 20 concurrent user sessions.

The 5301-AQM1 and 5301-AQM2 particle counter stores 45,000 time-stamped particle count and environmental data records for redundant protection in the event of a monitoring system or network failure.

The AQM Series mass concentration mode approximates density in μg/m³ and PM - particle matter allowing for density and refractive index corrections to ensure accuracy.

All Particles Plus® counters meet ISO 21501-4 and JIS B9921.

These instruments ensure compliance with an on-board pulse height analyzer.
Features
Measures 0.3 μm to 25 μm
0.1 CFM - 2.83 LPM Flow Rate
Large Easy-to-use Icon Driven Color Touch Screen Display
Approximates Mass Concentration in μg/m3 and Indicates Simultaneous PM Values
User-selectable, Adjustable Particle Channel Sizes
5301-AQM1 Measures CO2, Temperature, and Humidity. The 5301-AQM2 includes TVOC.
Stores Up to 45,000 Sample Records
Connect Using Ethernet, USB or Optional Wireless 802.11 b/g, RS485 or RS232
Static or Dynamic IP Address - DHCP Connects to a Local Network or the Internet
Seamless Integration Into a Facility Monitoring System with MODBUS RTU, ASCII or TCP
Internet of Things JSON Output Allows for Cloud Based Data Storage and Retrieval
Included Software Permits Remote Operations, Data Management, Diagnostics and More
Displays and Externally Prints Information with Optional Printer
Internal Audible Alarm with User Selectable Thresholds for All Environmental Parameters
Easy Configuration and Transferable from Instrument to Instrument
User Friendly Field Calibration with Single or Dual Point Offsets for All Sensors
Remote Diagnostics Allows for Remote Service Investigation Through the Internet
Long Life Laser Diode Technology
Lightweight Stainless Steel Enclosure
2 Year Limited Warranty, Extended Warranties Available
Specifications
Size Channels
Factory calibrated at 0.3, 0.5, 1.0, 2.5, 5.0, 10.0 μm variable binning
Flow Rate / Accuracy
0.1 CFM (2.83 LPM) / ± 3 %
Aerosol Concentration Range
Count Modes
Real-Time Meter and graph, cumulative/differential count/m³ and count/ft³, and mass concentration - PM
Log Interval
Minimum 1 second with no hold time, Max. 99 hours
Display
4.3" (10.9 cm) WQVGA (480x272) color touch screen
Printer
Optional
External thermal printer available
Internal Vacuum Pump
Internal pump with automatic flow control
Number of Channels
6 Calibration for custom size channels available
Custom Size Channels
Calibration for custom size channels available
Audible Alarm
Adjustable built-in alarm
Communication Modes
Ethernet
USB
Optional Wireless 802.11 b/g
RS-485 or RS-232
Environmental Sensors for 5301-AQM
Includes NDIR CO₂ (0-5000 ppm, resolution 1 ppm, accuracy ± 1 % FS, Response rate 20 seconds), temperature and relative humidity probe 32º to 122ºF (0º to 50ºC) ± 1° F (0.5ºC), 15-90 % ± 2 % RH
Environmental Sensors for 5302-AQM
Includes all sensors in the 5301-AQM1 and TVOC PID (standard on the 5301-AQM2), 0-50 ppm / minimum detection level 5 ppb, accuracy ± 1.5 %, Response rate < 3 seconds
Alarm
Alarms on counts for all particle sizes, low battery, sensor failure, environmental sensors and flow
Standards
ISO 21501-4 and JIS B9921
Instrument Calibration
Recommended minimum once per year
Gases, temperature and humidity sensors field calibratable
Dimensions
L x W x H
5.22" x 2.25" x 9.13"
13.3 cm x 5.7 cm x 23.2 cm
Includes barb fittings
Accessories
Operating Manual and IMS Software on USB flash drive
Isokinetic probe
Temperature relative humidity sensor
Purge filter
Battery
USB cable
Power supply
Optional Accessories
Calibration cap for gas sensor
Carrying case
External printer
Isokinetic probes
Barb fittings
Spare battery
External battery charger
Printed manual
IMS-RT monitoring system
Data Storage
45,000 sample records (rotating buffer) includes particle count data, environmental data, locations, times and annotations, scrollable on screen or printout
Power
110 to 240 Vac 50/60 Hz universal in-line power supply
Operating Conditions
41º to 104ºF (5º to 40ºC) / 20 % to 95 % non-condensing
Storage Conditions
32º to 122ºF (0º to 50ºC) / Up to 98 % non-condensing