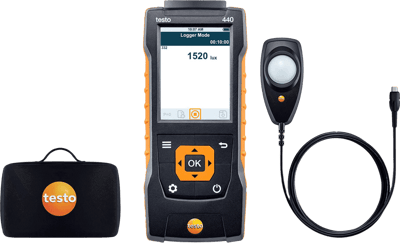 Images are representations only.
Testo 440 - Lux Kit
Part Number:
0563 4402
Brand:
Testo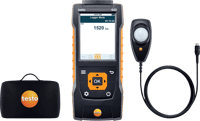 Kit for measuring the illuminance in workplaces, for example in offices or in production areas.

Keep the Testo 440 air velocity and IAQ measuring instrument and a lux probe safely stowed away in the case. So you can get down to work straight away!
Features
Intuitive: clearly structured measurement menu for long-term measurement and determination of illuminance according to the V-lambda curve , thus for all common light sources
Precise: standard-compliant accuracy according to DIN EN 13032-1 and class C according to DIN 5032-7
Convenient: non-slip probe contact surface for convenient positioning at the measuring location, internal data storage and USB port for data export
As multifaceted as your challenges themselves: the air velocity and IAQ measuring instrument can be expanded with a large portfolio of digital probes
Specifications
Delivery Scope
Testo 440 Air Velocity and IAQ Measuring Instrument, 3 AA Batteries, USB Cable, and Calibration Protocol (0560 4401)
Basic Case for Testo 440 and 1 Probe
Lux probe with fixed cable (cable length 1.4 m) and calibration protocol (0635 0551)
Temperature - NTC
Measuring Range: -40.0° F to 302.0° F / -40° C to +150° C
Accuracy: ± 0.7° F (-40° F to -13.2° F) / ± 0.4° C (-40° C to -25.1° C) | ± 0.5° F (-13° F to 166.8° F) / ± 0.3° C (-25° C to +74.9° C) | ± 0.7° F (167° F to 211.8° F) / ± 0.4° C (+75° C to +99.9° C) | ± 0.5 % of mv (Remaining Range)
Resolution: 0° F / 0.1° C
Temperature - TC Type K (NiCr-Ni)
Measuring Range: -328.0° F to 2498.0° F / -200° C to +1370° C
Accuracy: ± (0.5° F + 0.3 % of mv) / ± (0.3° C + 0.3 % of mv)
Resolution: 0.1° F / 0.1° C
Dimensions
6.1 x 2.6 x 1.3 in. / 154 x 65 x 32 mm
110 x 55 x 22 mm
Operating Temperature
-4.0° F to 122.0° F / -20° C to +50° C
0° to +50° C
Connectable Probes
1 x Digital Probe with Cable or 1 x Temperature NTC TUC
1 x Digital Bluetooth Probe or Testo Smart Probe
1 x Temperature TC Type K
Battery Life
12 h (Typically Vane Measurement)
Storage Temperature
-4.0° F to 122.0° F / -20° C to +50° C
Light
Measuring Range: 0 to 100000 Lux | 0 to 9300 ftc
Accuracy: DIN 13032-1 Appendix B | F1 = 6 % = V(Lambda) Adjustment | F2 = 5 % = cos-true Evaluation | Class C according to DIN 5032-7
Resolution: 0.1 Lux (10000)
Convenience and Maximum Flexibility for Duct and Outlet Measurements
Long-term Monitoring of Indoor Air Quality
Turbulence Measurement in Accordance with EN ISO 7730 / ASHRAE 55
Range of Probes for Cleanrooms and Laboratories