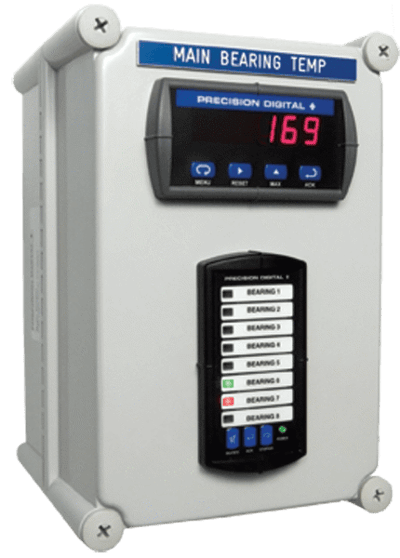 Images are representations only.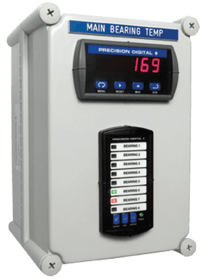 The PDS178 Watchdog Temperature Scanning & Alarming System brings together a popular combination of Precision Digital products: the Trident meter, the Minimux II scanner, and the PDA2821 NEMA 4X enclosure.

The scanner automatically switches between up to eight input signals: 4-20 ma, ±10 V, TC, or RTD and sends them to the Trident meter for display.

Signal switching is done via DPST reed relays.

The Watchdog can be used in a variety of temperature and process monitoring applications.

A very common application for this system is to monitor bearing temperatures.

The Trident meter included with this system is available with standard 0.56" - 14.2 mm high LED digits or large 1.2" / 30.5 mm high LEDs.
Features
Fully-approved Explosion-proof Meter
0-20 mA, 4-20 mA, 0-5 V, 1-5 V, and ±10 V Field Selectable Inputs with ±0.03% Accuracy
Dual-Line 6-Digit Display, 0.6" / 15 mm and 0.46" / 12 mm
SafeTouch Through-glass Button Programming
Display Mountable at 0°, 90°, 180°, & 270°
Isolated 24 VDC at 25 mA Transmitter Power Supply
Easy Field Scaling in Engineering Units without Applying an Input
4 Relays with Interlocking Capability + Isolated 4-20 mA Output Option
Free PC-Based, On-Board, MeterView Pro USB Programming Software
SunBright Display Standard Feature; Great for Outdoor Applications
Operating Temperature Range: -40 to 60°C / -40 to 140°F
FM Approved as Explosion-proof / Dust-ignition-proof / Flame-proof
CSA Certified as Explosion-Proof / Dust-ignition-proof / Flame-proof
ATEX and IECEx Certified as Flame-proof
Input Power Options: 85-265 VAC / 90-265 VDC or 12-24 VDC / 12-24 VAC
Display Input in Two Different Scales Simultaneously - Great for Level Applications
Multi-pump Alternation Control
Round Horizontal Tank Function; Just Enter Diameter and Length
32-Point Linearization, Square Root Extraction and Programmable Exponent Function
Password Protection
Programmable Display, Function Keys and Digital Inputs
Flanges for Wall or Pipe Mounting
Explosion-Proof, IP68, NEMA 4X Die-Cast Aluminum Enclosure
On-Board RS-485 Serial Communications
Modbus® RTU Communication Protocol Standard
Four 3/4" NPT Threaded Conduit Openings - Two Plugs Installed
Pipe Mounting Kits
Stainless Steel Tag Available
3-Year Warranty
Specifications
Product Type
Temperature Scanning and Alarm System
Temperature Scanning and Alarm System with Large Display
Display Options
0.56" High, 4 Digits, Red LED
1.2" High, 4 Digits, Red LED