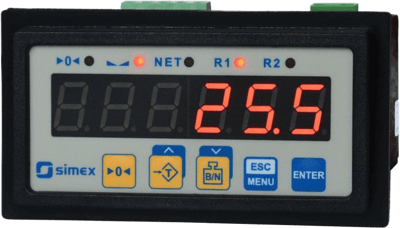 Images are representations only.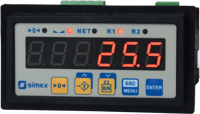 The SWI-94 weight meter is designed for operations with load cells: strain gages in simple industrial applications not requiring legal metrology approval.

The meter is equipped with operating pushbuttons which allow tare weight setting, zero setting for empty balance and displaying of gross and net weight values.

The readouts of the measured mass are presented on a 6-digit LED display. The REL / OC control outputs can adjust the level of measured signal and are controlled according to one or two threshold values.

The meter's software allows performing two calibration methods: data sheet calibration or dead weight calibration.

Moreover, the meter can be additionally equipped with analogue outputs, according to the customer selection: active current output, passive isolated current output or active voltage output.

The meter can be configured with the local keyboard or via the RS-485 communication port.
Features
Weight Meter to Work with Load Cells in Weighing and Force Measurement Systems
Inputs: Tensometer Load Cells 4-wire or 6-wire, 1 x Digital
Outputs: 2 x Digital: REL or OC, 1 x Analogue: Active or Passive
Data Sheet or Dead Weight Calibration
High Protection Class IP 65 - Front Side
RS-485 / Modbus RTU
Signal Peak Value Detection
Specifications
Probe Parameters
Tensometer load cells 4-wire or 6-wire, programmable sensitivity selectable up to 2 mV/V or 4 mV/V, load cells power supply: 4,6 V ± 10 %, Imax ~ 60 mA, min. resultant impedance of 80 Ω
Output Type
Depends on configuration
Relay I=1A, U=30 Vdc/250 Vac (cosø=1)
Open Collector: I=30 mA, U=30 Vdc, P=100 mW
0/1...5 V, 0/2...10 V: active voltage, operating range 0...11 V Max., load resistance min. 2000 Ω, resolution 13 bit
0/4...20 mA: active current, operating range 0...24 mA Max., load resistance 700 Ω Max., resolution 13 bit
4...20 mA: passive current, isolated, operating range 2,8...24 mA Max., load resistance 600 Ω @ 24 Vdc, resolution 13 bit
Power Supply
16...35 Vac, 19...50 Vdc
85..260 Vac/dc
Transmission Parameters
1200...115200 bit/s
8N1 / 8N2
Protection Class
IP 20: Case and Connection Clips
IP 65: with Integrated Frame
Documentation
Certifications and Approvals
Datasheet
Manual