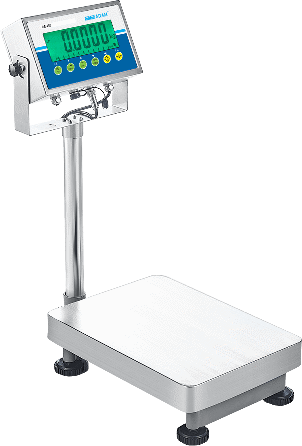 Images are representations only.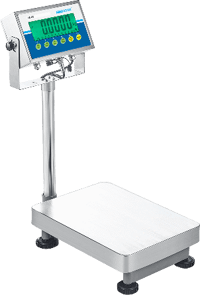 Ideal for industrial weighing and counting, AGB and AGF bench and floor scales feature sturdy construction and a rugged stainless steel indicator.

The scales are available in a choice of platform sizes and a wide selection of capacities.

Operation is fast and easy, as results are readily visible on the backlit LCD that boasts 1.5 in / 40 mm-high digits. An internal rechargeable battery means the AGB/AGF can be used in locations where power is unavailable. Swiftly transmit results to computers or printers using the RS-232 interface.
Features
Hardware

Color-coded keys facilitate quick recognition of the most frequently used buttons
Heavy-duty rubber feet ensure stability of unit
Large, grade 304 stainless steel pan allows swift cleaning
Rugged construction stands up to industrial use
RS-232 interface is available to provide speedy connection to computers and printers
Software

External calibration allows for verification and adjustment with weights
Hold function freezes the displayed weight, allowing time to elapse without losing the result
Checkweighing with audible alarm
Parts counting with preset sample sizes
Selectable digital filtering for animal/dynamic weighing enables consistent results for moving subjects
Display

Backlit display changes color for quick notification of checkweighing limits
Power

Rechargeable battery included for operation almost anywhere
Programmable auto power-off to save energy
Specifications
Capacity
16 to 1,320 lb / 8 to 600 kg
Readability
0.01 lb / 5 g
0.001 lb / 0.5 g
0.005 1b / 2 g
0.002 lb / 1 g
0.0005 lb / 0.2 g
0.05 lb / 20 g
0.02 lb / 10 g
Repeatability (S.D.)
0.001 lb / 0.5 g
0.05 lb / 20 g
0.004 lb / 2 g
0.002 lb / 1 g
0.1 lb / 0.05 kg
0.02 lb / 10 g
0.01 lb / 5 g
0.005 lb / 2 g
Linearity
0.001 lb / 0.5 g
0.002 lb / 1 g
0.004 lb / 2 g
0.01 lb / 5 g
0.05 lb / 20 g
0.1 lb / 40 g
0.02 lb / 10 g
Pan Size
15.7" x 19.7" / 400 x 500 mm
23.6" x 31.5" / 600 x 800 mm
11.8" x 15.7" / 300 x 400 mm
Display
Backlit LCD with 1.6" / 40 mm High Digits
Power Supply
12 Vdc 800 mA Adapter / Internal Rechargeable Battery
Operating Temperature
-10° to 40° C (14° to 104° F)
Housing Material
Stainless Steel Indicator with Die-cast Aluminum Base
Weighing 
Parts Counting 
Percentage Weighing 
Checkweighing
Check Counting
Display Hold 
Peak Hold