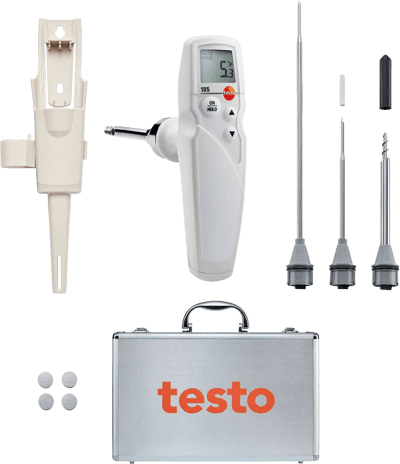 Images are representations only.
Set Testo 105 - One-Hand Thermometer
Part Number:
0563 1052
Brand:
Testo
Set Testo 105 - One-Hand Thermometer

One-hand thermometer with standard measurement tip, frozen food tip, long measurement tip and belt/wall holder in Aluminum case.

Whether it is food production, incoming goods control, gastronomy, large-scale kitchens, refrigerated warehouses or supermarkets: if you carry out spot check measurements in semi-solid goods, frozen goods and in liquids, this kit is ideal.

The robust testo 105 one-hand thermometer can be effortlessly combined with the plug-in measuring tips – meaning you are ideally equipped for your measuring task:

Standard measuring tip – for measurements in semi-solid media. The measuring tip penetrates meat, cheese or jellies without any problem and reliably records the core temperature
Frozen goods measuring tip – for measurements in frozen products. You can also use this measuring tip to test deep-frozen goods for specified temperature limit values
Long measuring tip – due to the long design, it is particularly suitable for temperature measurements in liquid media
All the equipment is transported conveniently and securely in the robust Aluminum case.

The belt holder and wall bracket ensure safe storage of the penetration thermometer on the move. This means it is ready to hand at all times!

The Testo 105 Penetration Thermometer – A Total Practical Professional

The practical one-hand operation, compact size and illuminated display make every day practical work easier.

Both an acoustic and an optical alarm reliably warn of any exceeding/undershooting of the freely adjustable limit values.

Good to know: thanks to a water-repellent surface, the penetration thermometer can also be cleaned under running water – particularly hygienic in accordance with protection class IP65.

The testo 105 is tested for the food sector according to EN 13485 and certified by HACCP International.
Features
Developed for hard, practical day-to-day work: robust construction and washable (IP65)
Two freely selectable limit values, acoustic and optical alarm when the limit values are exceeded/undershot
Certified to EN 13485 and HACCP-compliant
Advantage of the kit: One-hand thermometer, including changeable measuring tips and other practical accessories
Specifications
Delivery Scope
1 x Testo 105 One-Hand Thermometer, including Standard Measuring Tip, Froz.en Goods Measuring Tip, Long Measuring Tip, Belt Holder/Wall Bracket, Batteries and Aluminum Case
Weight
5.64 oz. (with long measurement tip) / 160 g (with long measurement tip)
39.65 oz. (total weight kit with case) / 1124 g (total weight kit with case)
5.71 oz. (testo 105 with froz.en food tip) / 162 g (testo 105 with froz.en food tip)
5.50 oz. (testo 105 with standard measurement tip) / 156 g (testo 105 with standard measurement tip)
Dimensions
5.8 x 1.5 x 7.7 in. (with standard measurement tip) / 148 x 38 x 195 mm (with standard measurement tip)
5.8 x 1.5 x 7.3 in. (with froz.en food tip) / 148 x 38 x 185 mm (with froz.en food tip)
5.8 x 1.5 x 11.7 in. (with long measurement tip) / 148 x 38 x 297 mm (with long measurement tip)
Operating Temperature
-4° F to 122.0° F / -20° C to +50° C
Storage Temperature
-40° F to 158° F / -40° C to +70° C
Temperature - NTC
Measuring Range: -58° F to 527° F / -50° C to +275° C
Resolution: 0.1° F / 0.1° C
Accuracy: ± 0.9° F (-4° F to 212° F) / ± 0.5° C (-20° C to +100° C) | ± 2° F (-58° F to -4.2° F) / ± 1.0° C (-50° C to -20.1° C) | ± 1 % of mv (212.2° F to 527° F) / ± 1 % of mv (+100.1° C to +275° C)
Reaction Time: t99 (Probe Short/Long) = 10 sec | t99 (Froz.en Goods Probe) = 15 sec (in Froz.en Meat approx. 60 s)