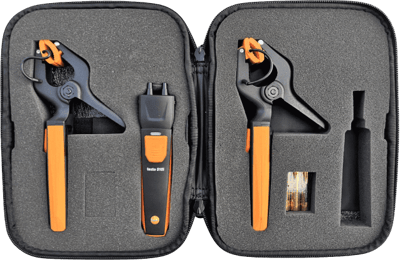 Images are representations only.
Testo Smart Probes Differential Temperature/Pressure Kit
Brand:
Testo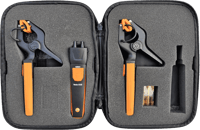 For heating engineers: The compact differential temperature/pressure kit contains three measuring instruments (2x Testo 115i and 1x Testo 510i) for carrying out your most important measuring tasks involving heating systems.

The Testo Smart Probes App enables you to work more easily and efficiently: Use the measurement menus for pressure drop test with alarm function or for non-contact IR temperature measurement with image documentation including measuring value and measurement spot marking.

Measurement data reports can be emailed directly as a PDF or Excel file.

The compact differential temperature/pressure kit with two Testo 115i clamp thermometers and the Testo 510i differential pressure measuring instrument is ideal for important measuring tasks performed by heating engineers.

In conjunction with a smartphone or tablet, it enables heating system temperatures and pressures to be measured and checked.

Users can read off their measuring values conveniently via the App installed on the terminal device.

Application specific menus, such as pressure-drop tests including alarms, support heating engineers in their daily work. All measurement data is presented as either a diagram or table.

The measurement data report can be emailed directly as a PDF or Excel file. In the handy Testo Smart Case, the measuring instruments can be conveniently transported and are always to hand when they are needed
Features
Measurement data analysed and sent via Testo Smart Probes App
Gas flow and static pressure as well as pressure drop test including alarm function
Flow and return temperature, temperatures of underfloor heating and radiators 
Specifications
Delivery Scope
2 x Testo 115i surface thermometer operated via smartphone, including batteries and calibration protocol (0560 2115 02)
1 x Testo 510i differential pressure measuring instrument operated via smartphone, including hose kit (Ø 4 mm and 5 mm) with adapter, batteries and calibration protocol (0560 1510)
1 x Testo Smart Case "Heating", including foam insert (0516 0240)
Weight
127.4 g
92 g
Smart Case: 249.8 g
Dimensions
183 x 90 x 30 mm
148 x 36 x 23 mm
Product / Housing Material
System Requirements
Requires iOS 13.0 / 11.0 or newer
Requires Android 8.0 / 6.0 or newer
Requires mobile end device with Bluetooth 4.0
Product Colour
Black/Orange
Smart Case: Black
Temperature - NTC
Measuring Range: -40° C to +150° C
Accuracy: ± 1.3° C (-20° C to +85° C)
Resolution: 0.1° C
Differential Pressure (Internal Sensor) - Piezoresistive
Measuring Range: -150 to +150 hPa
Accuracy: ± 0.05 hPa (0 to +1 hPa) | ± (0.2 hPa + 1.5 % of mv) (+1 to +150 hPa)
Resolution: 0.01 hPa