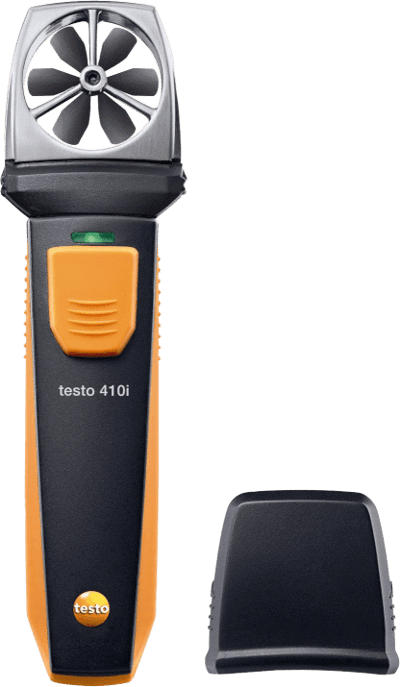 Images are representations only.
Testo Smart Probes VAC Kit
Brand:
Testo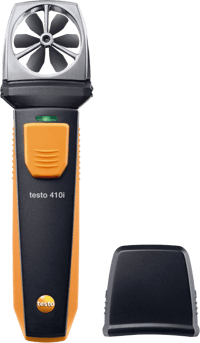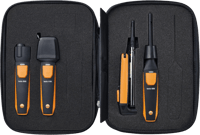 For air-conditioning engineers: Compact kit containing four measuring instruments for your most important measuring tasks in, on and involving air conditioning systems.

The Testo Smart App enables you to work more easily and efficiently: Use intuitive measurement menus for volume flow measurement, for automatic calculation of the dew point and wet bulb temperature or for detecting areas susceptible to mould according to the traffic light principle.

Measurement data reports can be emailed directly as a PDF or Excel file.
Features
Measurement of air and surface temperature, humidity, air velocity and volume flow
Measurement menus for volume flow measurement in ducts and at outlets, identification of mould risk, easy image documentation including IR temperature reading and measurement spot marking
Display measurement data as a graph or table and analyze and send via testo Smart App
In conjunction with your smartphone/tablet, carry out the most important measurements involved in air conditioning systems
Specifications
Delivery Scope
1 x testo 405i thermal anemometer operated via smartphone, including extendable (400 mm) telescope, batteries and calibration protocol (0560 1405)
1 x testo 410i vane anemometer operated via smartphone, including protective cap, batteries and calibration protocol (0560 1410)
1 x testo 605i thermohygrometers operated via smartphone, including batteries and calibration protocol (0560 2605 02)
1 x testo 805i infrared thermometer operated via smartphone, including batteries and calibration protocol (0560 1805)
1 x testo Smart Case "Vac", including foam insert (0516 0260)
Temperature - NTC
Measuring Range: -20° C to +60° C
Accuracy: ± 0.8° C (-20° C to 0° C) | ± 0.5° C (0° C to +60° C)
Accuracy: ± 0.5° C
Resolution: 0.1° C
Temperature - Infrared
Measuring Range: -30° C to +250° C
Accuracy: ± 1.5° C or ± 1.5 % of mv (0° C to +250° C) | ± 2° C (-20° C to -0.1° C) | ± 2.5° C (-30° C to -20.1° C)
Resolution: 0.1° C
Velocity - Hot Wire
Measuring Range: 0 to 30 m/s
Accuracy: ± (0.1 m/s + 5 % of mv) (0 to 2 m/s) | ± (0.3 m/s + 5 % of mv) (2 to 15 m/s)
Resolution: 0.01 m/s
Velocity - Vane
Measuring Range: 0.4 to 30 m/s
Accuracy: ± (0.2 m/s + 2 % of mv) (0.4 to 20 m/s)
Resolution: 0.1 m/s
Humidity - Capacitive
Measuring Range: 0 to 100 %RH
Accuracy: ± 3.0 %RH (10 to 35 %RH) (at +25° C) | ± 2.0 %RH (35 to 65 %RH) (at +25° C) | ± 3.0 %RH (65 to 90 %RH) (at +25° C) | ± 5 %RH (90 %RH) | Hysteresis: ± 1.0 %RH | Long-term Stability: ± 1
Resolution: 0.1 %RH
Weight
86.4 g
119.6 g
117.8 g
97 g
Smart Case: 286 g
Dimensions
218 x 30 x 27 mm
200 x 30 x 41 mm
154 x 43 x 21 mm
140 x 36 x 25 mm
Smart Case: 270 x 190 x 60 mm
Operating Temperature
-20° C to +50° C
-10° C to +50° C
Product / Housing Material
System Requirements
Requires iOS 11.0 or newer
Requires Android 6.0 or newer
Requires Mobile end device with Bluetooth 4.0
Product Colour
Black/Orange
Smart Case: Black
Storage Temperature
-4° F to 140° F / -20° C to +60° C