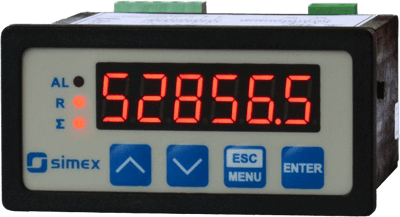 Images are representations only.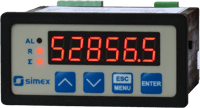 The SPI-73 flow counters are designed to work together with flow transducers equipped with contact or electronic inputs.

The purpose of flow counters is to measure the instantaneous flow value and to record the total flow of media like liquids, gases or loose materials.

A wide range of total flow indication: up to 16 digits allows controlling the flow value for a long operation time.

The REL / OC control output can be programmed depending on the instantaneous flow value, batcher or total flow value.

The counter can be configured with the local keyboard or free S-Config software via the RS-485 communication port.
Features
Flow Meter, Totalizer
1 Pulse Counting Input
1 REL / OC Output
Power Supply Output: 24V DC
RS-485 / Modbus RTU
Display of Instantaneous and the Total Flow Values
ACCESS Option - Easy Threshold Modification
Free Configuration Software S-Config
Specifications
Input Levels
Low: 0...1V, High: 10...30 V
Output Type
Relay I=1A, U=30 Vdc/250 Vac (cosø=1)
Open Collector: I=30 mA, U=30 Vdc, P=100 mW
Power Supply
16...35 Vac, 19...50 Vdc
85..260 Vac/dc
11,4...15 Vac/dc
Protection Class
IP 20: Case and Connection Clips
IP 65: Front
Optional Integrated Frame for Panel Cut-out Sealing
Documentation
Certifications and Approvals
Datasheet
Manual