Images are representations only.
Testo 770-1 - Clamp Meter
Part Number:
0590 7701
Brand:
Testo
Testo 770-1 - Clamp Meter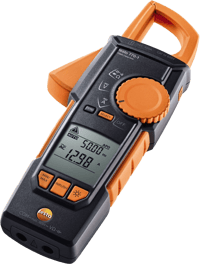 The Testo 770-1 clamp meter is ideally suited for non-contact current measurement on tightly packed power cables or conductors with a small diameter.

The unique grab mechanism means you can grab each individual cable easily and safely.

This clamp meter means you can cope in any application environment, no matter how tight.

The movable pincer arm can be fully retracted into the instrument, so that you can for instance grab tightly packed cables in switching cabinets as if you were using a hook.

You have never been able to measure as conveniently as this in tight spots.

The operation of the Testo 770-1 clamp meter is also easier and more reliable than ever before.

It automatically detects and selects AC/DC and other electrical parameters, such as resistance, continuity, diode and capacitance.

In addition, you can also use it to measure the starting current. And the two-line display presents your readings clearly and distinctly.
Features
Fully retractable pincer arm for maximum flexibility
Auto AC/DC
Large two-line display
Measures the common electrical parameters
Specifications
Delivery Scope
Testo 770-1 TRMS Clamp Meter, including Battery, 1 Set of Measuring Cables (0590 0010), Instruction Manual
DC Voltage
Measuring Range: 1.0 to 600.0 V
Resolution: Max. 1 mV
Accuracy: ± (0.8 % of mv + 3 Digit)
AC Voltage
Measuring Range: 1.0 mV to 600.0 V
Resolution: Max. 1.0 mV
Accuracy: ± (1.0 % of mv + 3 Digit)
DC Current
Measuring Range: 0.1 to 400 A
Resolution: Max. 0.1 A
Accuracy: ± (2 % of mv + 5 Digit)
AC Current
Measuring Range: 0.1 to 400 A
Resolution: Max. 0.1 A
Accuracy: ± (2 % of mv + 5 Digit)
Resistance
Resolution: Max. 0.1 Ohm
Measuring Range: 0.1 to 40.00 MOhm
Accuracy: ± (1.5 % of mv + 3 Digit)
Capacitance
Resolution: Max. 0.01 nF
Measuring Range: 10 nF to 100.0 μF
Accuracy: ± (1.5 % of mv + 5 Digit)
Frequency
Measuring Range: 10 nF to 100.0 MHz
Accuracy: ± (0.1 % of mv + 1 Digit)
Operating Temperature
14.0° F to 122.0° F / -10° C to +50° C
Standards
EN 61326-1, EN 61010-2-032, EN 61140
Display Type
LCD (Liquid Crystal Display)
Storage Temperature
5.0° F to 140.0° F / -15° C to +60° C
Overvoltage Category
CAT III 1000 V, CAT IV 600 V
Instrument Measurement Functions
Diode Test: Yes
Continuity Testing: Yes
Display Lighting: Yes
Hold: Yes
Min/Max.: Yes
True RMS: Yes
Inrush Current Measurement: Yes
Low-Pass Filter: Yes
Display (Counts): 4,000
Automatic Measurement Parameter Detection: Yes
Ideal for Non-Contact Current Measurement on Tightly Packed Cables


Fully Retractable Pincer Arm
Auto AC/DC
Large Two-Line Display
True Root Mean Square (TRMS) Measurement
Starting Current Measurement

Overview of Applications


Current Consumption Measurement
Testing Voltage Supply in Live Wires
Measuring the Ionization Flow of Heating Systems
Continuity Tests on Switching Components
Resistance Measurement of Sensors or Motor Windings