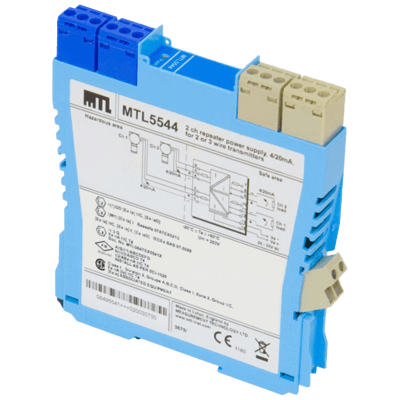 Images are representations only.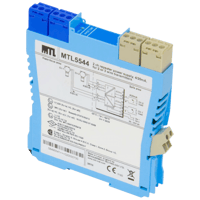 The MTL 5544 provides fully floating dc supplies for energising two conventional 2 or 3-Wire (4-20) mA or 'smart' transmitter located in a hazardous area, and repeats the current in other circuits to drive two safe area loads.

For smart 2-Wire transmitters, the unit allows bi-directional transmission of digital communications signals superimposed on the (4-20) mA signal so that the transmitter can be interrogated either from the operator station or by a hand held communicator.
Specifications
Accuracy
Transfer Accuracy: Better than 15 µA at 20° C
Approvals & Certifications
Consumption
Current: 96 mA at 24 V, Max.
Current
Circuit Ripple: < 50 µA Peak-to-Peak
Output: 93 mA
Indication
Green LED (Power Indication)
Input
Transmitter Voltage: 16.5 V at 20 mA
Input Signal
0 to 24 mA, 2 or 3 to Wire
Load
Resistance: 0 to 360 ohms at 24 mA
Resistance: 0 to 450 ohms at 20 mA
Output
Signal Range: 4-20 mA
Under /Over-Range: 0-24 mA
Voltage: 28 V
Resistance
Circuit Output: > 1 megaohms
Response Time
50 µs - Settles within 10 % of Final Value