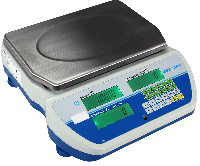 Images are representations only.
Ideal for shipping and receiving, warehouse use, and production facilities, the CCT offers intelligent functions that are practical for any counting application. With the CCT, it's easy to check the number of pieces in a carton or container, helping reduce waste when filling orders or packaging shipments. Intuitive software is user-friendly and keeps track of the count, automatically optimizing the unit weight for greater accuracy.

The CCT features up to 140 PLUs in memory for fast configuration. Its compact design makes it easy to transport between locations within a facility during inventory procedures.
Features
Hardware

Color-coded keys facilitate quick recognition of the most frequently used buttons
RS-232 interface is available to provide speedy connection to computers and printers
Optional USB interface simplifies data communication
Solid ABS housing is durable for industrial use
Adjustable leveling feet help optimize setup
Software

Built-in memory for storing products and settings
External calibration allows for verification and adjustment with weights
Internal counting resolution 1:600,000 for precise results
Parts counting optimization automatically refines piece weight as parts are added
Parts counting with freely selectable sample sizes
Preset tare function speeds the process of repetitive weighing
Programmable for counting to a preset number of parts
Display

Backlit LCD shows weight, unit weight and count in one convenient location
Power

AC adapter included
Programmable auto power-off to save energy
Rechargeable battery included for operation almost anywhere
Specifications
Capacity
8 lb/4 kg to 100 lb/48 kg
Readability
0.0002 lb / 0.1 g
0.0005 lb / 0.2 g
0.001 lb / 0.5 g
0.002 lb / 1 g
0.005 lb / 2  g
0.0001 lb / 0.05 g
Repeatability (S.D.)
0.0004 lb / 0.2 g
0.001 lb / 0.4 g
0.002 lb / 1 g
0.004 lb / 2 g
0.01 lb / 4 g
0.0002 lb / 0.1 g
Linearity (±)
0.0006 lb / 0.3 g
0.001 lb / 0.6 g
0.003 lb / 1.5 g
0.006 lb / 3 g
0.01 lb / 6 g
0.002 lb / 1.2 g
Pan Size
8.3" x 11.8"/ 210 x 300 mm
Display
Backlit LCD with 0.6" / 15 mm High Digits
Power Supply
12 Vdc 50/60 Hz 800 mA Adaptor / Internal Rechargeable Battery
Operating Temperature
-10° to 40° C (14° to 104° F)
Weighing 
Parts Counting 
Check Counting