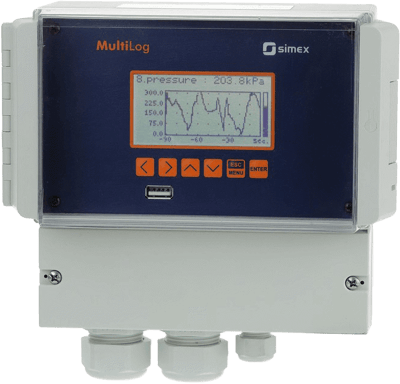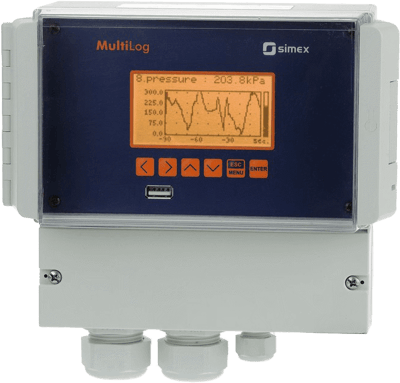 Images are representations only.
MultiLog SRD-99S and SRD-N16 Multichannel Data Recorders
Brand:
SIMEX sp. z o.o.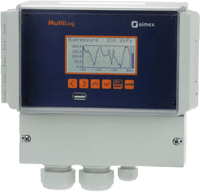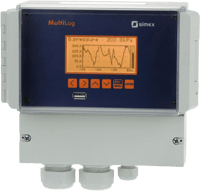 The MultiLog line instruments have been designed to display and record current values, as well as to present technological parameters in a graphical form.

The devices are equipped with up to 8 measuring inputs.

The panel mounted version, SRD-99, operates universal temperature or analogue inputs, which enables connecting different types of sensors to one device, while the wall mounted version, SRD-N16, operates fixed inputs.

A USB flash drive enables a significant simplification of the unit application: it is no longer necessary to connect a PC and data logger via the RS-485 interface, data downloading can be completed 10 times sooner than in case of using the RS-485 port.

The MultiLog is equipped with 2 relay outputs.

The main function of the outputs is to signal critical situations, but thanks to the expanded menu it is possible to use it in numerous control and regulation applications.

Both outputs can be driven by a single measurement channel or by a group of channels: from 1 to 8 channels, with individually adjustable thresholds for every measurement channel.

Signalizing output states is displayed in two fields, R1 and R2, in the left upper corner of the LCD screen.
Features
Universal Inputs: RTD + TC or U + I - SRD-99
Fixed Inputs: RTD, TC, U, I - SRD-N16
2 Relay Outputs
Memory Up to 3 000 000 Records
Quick Data Transfer via Ports: USB Host - USB Flash Drive, USB PC - Wire, RS-485 - Modbus RTU
Display Measured Values in °C or °F
12V AC/DC: 11-16V DC/10-13V AC Power Supply
Backlight: Amber or White
Panel or Wall Mount Version
Specifications
Product Type
Panel Mounted
Wall Mounted
Number and Type of Inputs
1 x U/I
4 x U/I
8 x U/I
1 x RTD/TC
4 x RTD/TC
8 x RTD/TC
USB Interface
Front USB Host
Rear USB Host
Type of Inputs
I: 0/4-20 mA
U: 0/1-5 V, 0/2-10 V
RTD: Pt100, Pt500, Pt1000
TC: K, S, J, T, N, R, B, E
Power Supply
24 Vac/dc
85 V - 260 Vac/dc
12 Vac/dc
Options
No Options
IP 65 Gasket: Rear USB Host Port Only
Operating Temperature: -20° C ÷ +50° C + PCB Conformal Coating
IP 65 Gasket + Operating Temperature: -20° C ÷ +50° C + PCB Conformal Coating - Rear USB Host Port Only
USB Host - Standard
USB Host + Operating Temperature: -20° C ÷ +50° C + PCB Conformal Coating