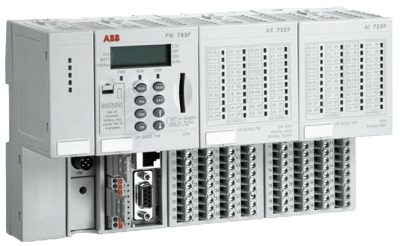 Images are representations only.
The AC 700F controller, as a member of Freelance, has numerous advantages over a PLC based solution:

The distributed process control system (DCS) simplifies engineering, commissioning and maintenance of the automation system.
Visualization is directly incorporated into the engineering, making configuration particularly straightforward.
AC 700F can also be extended with Profibus Remote I/O units. In addition, field devices can be connected to AC 700F.

Thanks to the flexibility of Ethernet and its small footprint, AC 700F can also be placed in junction boxes in non-hazardous areas out in the field as competitive, intelligent Ethernet I/O.
Features
Very small footprint
SD card support
Typically around 300 I/Os per controller
Support for PROFIBUS, Modbus
Direct or remote connection of I/Os
Specifications
Operating Temperature
0° to 60° C (32° to 140° F)
0° to 60° C / 32° to 140° F
With FieldbusPlug: 0° to 55° C (32° to 131° F)
Storage Temperature
Transport/Storage: -25° to 75° C (-13° to 167° F)
Battery: -20° to 60° C (140° F)
Data Buffering Time
Approximately 1.5 Years at 25° C / 77° F
Mounting
Horizontal or vertical with horizontal or vertical with de-Rating (50 % output load, reduction of Max. Temperature to 40° C/ 104° F
Power Supply
CP-C 24 / 5.0, Power Supply 5 A / 24 Vdc Output
CP-C 24 / 10.0, Power Supply 10 A / 24 Vdc Output
Power Dissipation
Maximum 10 W withthe module
Memory
Program: 2 MB SRAM (Battery back up)
Internal: 8 MB SDRAM, 4 MB FLASH ROM
Processing Time
For 1000 instructions: 1.667 ms for binary instructions, 3.125 ms for floating point instructions, 2.322 ms for word instructions
SD Card Support
For Controller backup and firmware update
Number of I/O Modules Per CPU
Indication
Battery Low warning indication issued about 2 weeks before the battery charge becomes critical
Real-Time Clock, with Battery Back-Up
Dimensions
CPU without the Terminal Base: 67.5 W x 76 H x 54 D mm / 2.66" x 2.99" x 2.13"
Weight
CPU without terminal base: 150 g / 5.29 oz.