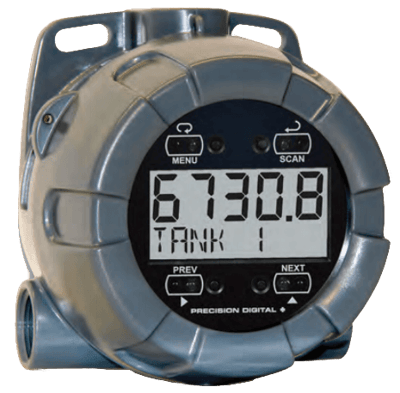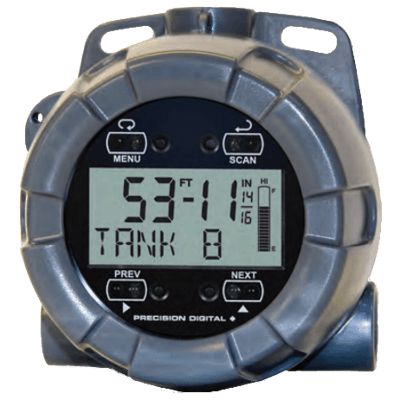 Images are representations only.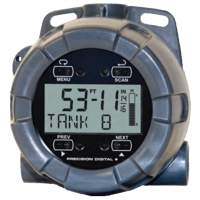 The Vantageview PD6730X is a plastic, field-mounted, RS485 serial input Modbus® RTU scanner capable of scanning up to 16 Modbus variables and displaying them on an easy-to-read, dual-line, LCD display.

It can be programmed as a Modbus RTU master, slave, or snooper.

The PD6730X is available in two upper display line configurations: 5-digit decimal display and feet & inches display with bar graph. The lower line is the same for both versions and consists of seven alphanumeric characters.

Two features that really make the PD6730X stand out are its wide viewing angle display and SafeTouch® through-window buttons.

These buttons allow the PD6730X to be programmed and operated through the cover window, thus eliminating the need to remove the cover in dirty or wet environments.
Features
Modbus® Master, Slave, or Snooper Mode
Scan up to 16 Modbus Process Variables
5-Digit Decimal or Feet & Inches Level Display
7 Alphanumeric Character 0.4" (10.2 mm) Lower Display for Process Variables, Custom Units, and Tags
Independent Scaling, Tag, and Unit for Each PV
On-Board Three-Wire RS-485 with Modbus
Injection-Molded, IP65, NEMA 4X Plastic Enclosure
SafeTouch® Through-Window Button Programming
Two Isolated Pulse Outputs Standard, Up to 5 kHz
Isolated 4-20 mA Output Option
Pulse Input for Rate, Total, and Grand Total
13-Digit Totalizer with Total Overflow Feature
Automatic Rate, Total, and Grand Total Unit Conversions • Password Protection
Backlight Standard on All Models
Operates from -40 to 75°C
Data Logging Functions and Modbus Accessible Data
4 models matching criteria
Specifications
Enclosure, Body Material
Polycarbonate with UV Stabilizer
Function
Absolute Difference
Absolute Value
Addition
Concentration
Constant
Difference
Division
Draw
Floating Point
Long Integer
Multiplication
Ratio
Square Root
Weighted Average
Isolation
500 V Opto-Isolated Pulse Input to Power / OC Output with Isolated Input Enabled
K-Factor
May be Programmed from 0.000001 to 9,999,999 Pulses/Unit
Operating Temperature
-40° to 75° C (-40° to 167° F)
Storage Temperature
-40° to 75° C (-40° to 167° F)
Documentation
Instruction Manuals
Modbus Tables