Images are representations only.
Testo 315-3 CO and CO₂  Meter for Ambient Measurements
Brand:
Testo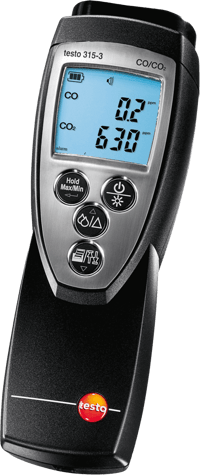 Cutting-edge technology, easy-to-use, rugged design - these are just a few of the features which make the Testo 315-3 stand out head and shoulders above the rest.

The CO and CO₂ meter is designed to measure carbon monoxide and carbon dioxide in parallel in ambient room conditions. The readings are presented on an easy-to-read display.

A visual and an audible alarm are activated when CO/CO₂ thresholds are exceeded. The thresholds can be adjusted to suit your application.

The meter conforms to the EN50543 standard for measurement of ambient air quality in commercial kitchens and other applications.
Specifications
Ambient CO₂ Measuring Range
0 to 10000 ppm
Accuracy: ± 300 ppm (0 to 4000 ppm), 8 % of mv (4000 to 6000 ppm), 500 ppm (6000 to 10000 ppm)
Ambient CO Measuring Range
0 to 100 ppm
Accuracy: ± 3 ppm (0 to 20 ppm), ± 5 ppm (> 20 ppm)
Resolution: 0.5 ppm
Protection Class
IP40 according to EN 60529
Standards
According to EN 50543 EU-/EG-guidelines: 2004/108/EG
Warranty
2 years on the instrument
Rechargeable Battery: 12 months
CO Sensor: 12 months
CO₂ Sensor: 12 months
Storage Battery Type
Lithium polymer rechargeable batter
Battery Charging Option
In instrument via mains unit
Battery Life
10 hours measurement time (at +20° C) / mains operation possible