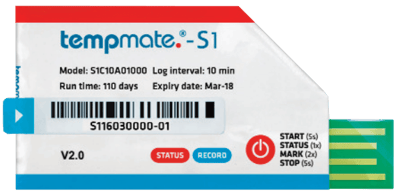 Images are representations only.
TempMate2 Single Use USB Temperature Data Logger
Brand:
Signatrol Ltd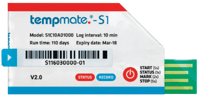 TempMate2 is a single use temperature data logger that does not require any communication interface at the receiving end of the journey.

The data logger is activated at the start of the journey by pressing the Start button.

The data logger is then placed inside the package with the goods to be monitored and despatched.

At the receiving end, the data logger is removed from the package and the Stop button is pressed.

The data logger is then removed from its waterproof wrapper and insterted in to the USB port on any Windows computer.

The data logger then presents itself as a convnetional memory stick with PDF and CSV files containing the graph of the temperature readings throughout the journey.

The TempMate V2 will hold up to 110 days of temperature readings once started and is available with optional alarms.
Specifications
Accuracy
± 0.5° C (± 0.9° F) - Temperature
Approvals & Certifications
Battery Life
2-Years, 3.0 V Lithium Batteries
Resolution
0.1° C (0.1° F) - Temperature
Temperature Range
-30° to 70° C (-22° to 158° F)