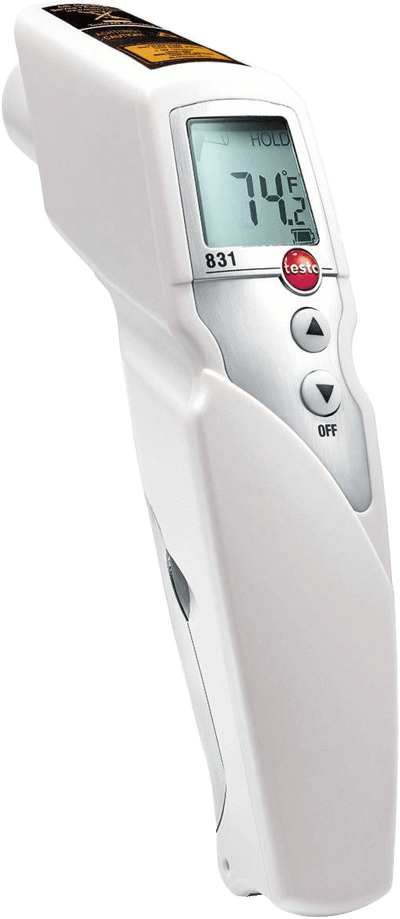 Images are representations only.
Testo 831 - Infrared Thermometer
Part Number:
0560 8316
Brand:
Testo
Testo 831 - Infrared Thermometer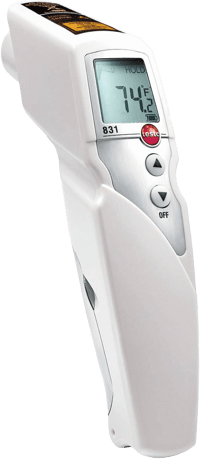 The testo 831 infrared thermometer allows you to carry out quick and precise temperature measurements of whole pallets of food, and smaller products from a distance.

Ideal for checking the temperature of incoming goods, and for use in food production.

Temperature checks have never been easier; the testo 831 infrared thermometer measures the surface temperature of individual products, or whole pallets of goods, quickly and accurately.

The Testo 831 Infrared Thermometer in Action

The testo 831's design, technology, and features make it the ideal tool for use in the food sector.

This easy to use food thermometer provides you with quick and accurate readings and is a real time saver.
Features
Non-contact, non-invasive temperature measurements due to IR technology
Precise temperature measurements also of smaller products and from a distance
Ultra-fast: two measurements per second – allows you to scan whole pallets in the blink of an eye
Includes 2-point laser measuring spot marking, 30:1 optics, belt clip, batteries
Practical pistol grip design: easy one-handed use; trigger button for quick and easy scans
Ultra-fast measurements: two per second - multi-scan whole pallets / cooling shelves
Precise temperature measurements – also from a distance, thanks to 30:1 optics. A measurement carried out over a distance of 3 ft. produces a measuring spot with a diameter of only 1.4 in. Ideal for measuring the temperature of smaller products, like yogurt cartons
Always on target: the food thermometer's 2-point laser shows you exactly which object you have set your sights on. The two laser points mark the diameter of the measuring circle in which the surface temperature is to be measured
Alarm and min/max values: and a whole host of other features, including user-defined thresholds to determine individually when the visual and audible alarms are activated, a hold function that freezes the last measurement for easier display and min/max values
Belt clip: protective case and belt clip for safe storage and quick and easy use
Wide measuring range: -22°F (frozen food), up to +410°F (hot counters)
HACCP certified: ideal for use in the food sector
Also available as a kit: with the testo 106 thermometer for carrying out core temperature measurements
Specifications
Delivery Scope
Testo 831 Infrared Thermometer, Case, Belt Clip, Factory Calibration Certificate, and Batteries
Dimensions
7 x 3 x 1 in. / 190 x 75 x 38 mm
Operating Temperature
-4° F to 122.0° F / -20° C to +50° C
Storage Temperature
-40° F to 158° F / -40° C to +70° C
Temperature - Infrared
Measuring Range: -22° F to 410° F / -30° C to +210° C
Accuracy: ± 2.7° F or ± 1.5 % of mv (-4° F to +410° F) / ± 1.5° C or ± 1.5 % of mv (-20° C to +210° C) | ± 4° F or ± 2 % of mv (Remaining Range) / ± 2° C or ± 2 % of mv (Remaining Range)
Infrared Resolution: 0.1° F / 0.1° C