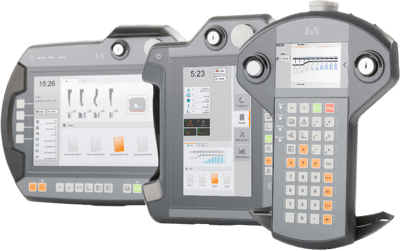 Images are representations only.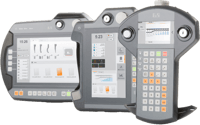 Mobile Panel 7100 handheld operator panels offer maximum flexibility for the user.

Machine operation takes place directly at the center of the action.

An extensive product portfolio consisting of different device variants ranging up to a 10.1" device with the performance of an industrial PC covers all types of applications.

The mobile operator panels are designed so that they are comfortable to hold and do not cause fatigue even after working for longer periods of time.

This benefit is enjoyed by left and right handed operators alike.

The low-weight construction also helps ensure safe operation and monitoring.

The demands placed on a handheld system like the Mobile Panel are of course higher than those for a mounted device.

This is why the Mobile Panel 7100 has a particularly robust design, with a double-reinforced housing that can absorb extremely hard impacts.

Operating elements like the key switch and stop button are recessed in the special housing shape, which also helps to able to dampen hard impacts.

As for protection, the electronics are positioned to absorb external shocks and jolts as effectively as possible, while the housing, cables, and connectors are all protected against dust and sprayed water.
Features
High-resolution displays
Intuitive touch-screen operation
Robust construction
Low weight
Ergonomic layout for right- or left-handed operators
Customized modifications for panel overlay and operating elements
Specifications
Display
7" TFT display
10.1" TFT display
Resolution
7": WSVGA (600 x 1024)
10.1": WXGA (1280 x 800)
Processor
ARM Cortex A9 Single core 1.0 GHz
Memory
7": 4 GB flash memory
10": 4GB/32GB Flash memory
Switching elements
Key switch
Stop button
Gray  enable switch