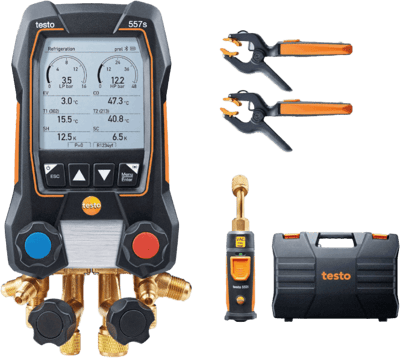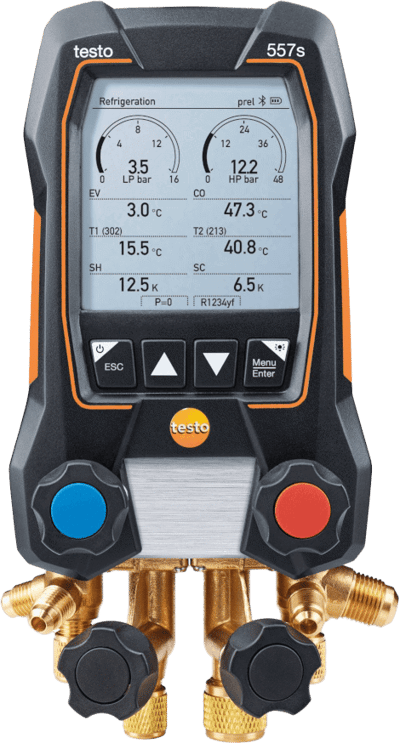 Images are representations only.
Testo 557s Smart Vacuum Kit - Smart Digital Manifold with Wireless Vacuum and Clamp Temperature Probes
Brand:
Testo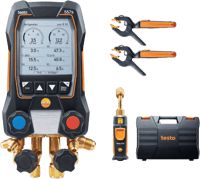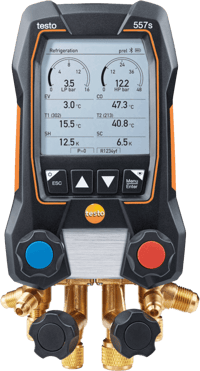 Start your wireless measurements on refrigeration and air conditioning systems and heat pumps straight away.

Thanks to the Bluetooth vacuum probe supplied, you can even measure vacuum without any cables or hoses.

You will get the Testo 557s smart digital manifold with Bluetooth and 4-way valve block, one Testo 552i wireless vacuum probe (Bluetooth), two Testo 115i wireless clamp thermometers (Bluetooth, NTC) and a robust transport case.

For other wireless measurements, other optionally available Testo Smart Probes are also ideal.
Features
Completely wireless measurements and all results at a glance: thanks to Bluetooth probes and large graphic display
Exceptionally compact and reliable thanks to the easy-to-handle, robust housing with IP 54 protection class
Easy, wireless, flexible measurements and documentation: Temperature and vacuum measurements via automatic Bluetooth®
In the kit: Testo 557s smart digital manifold with Bluetooth and 4-way valve block, 1 x Testo 552i wireless vacuum probe (Bluetooth), 2 x Testo 115i wireless clamp temperature probes (Bluetooth, NTC), case
Specifications
Delivery Scope
Testo 557s digital 4-Way manifold including batteries (4 x AA) and Calibration Protocol
1 x Testo 552i Wireless Bluetooth Vacuum Probe
2 x Testo 115i Wireless Bluetooth Clamp Thermometers
Transport case
Testo Smart App (free download)
Instruction manuals
Absolute Pressure
Measuring Range: 0 to 26.66 mbar / 0 to 20000 micron
Accuracy: ± 10 micron + 10 % of mv (100 to 1000 micron) / ± 1
Resolution: 1 micron (0 to 1000 micron) / 10 micron (1000 to 2000 micron) / 100 micron (2000 to 5000 micron)
Overload: Absolute: 6.0 bar / 87 psi (Relative: 5.0 bar / 72 psi)
Temperature
Measuring Range: -50° C to +150° C
Accuracy: ± 0.5° C
Resolution: 0.1° C
Probe Connection: 2 x plug-in (NTC)
Temperature - NTC
Measuring Range: -40° C to +150° C
Accuracy: ± 1.3° C (-20° C to +85° C)
Resolution: 0.1° C
Pressure Measurement
Measuring Range: -1 to 60 bar
Accuracy: ± 0.5 % Full Scale
Resolution: 0.01 bar
Probe Connection: 3 x 7/16"-UNF + 1 x 5/8"-UNF
Overload Relative (High Pressure): 65 bar
Dimensions
183 x 90 x 30 mm
150 x 32 x 31 mm
229 x 112.5 x 71 mm
Operating Temperature
-10° C to +50° C
-20° C to +50° C
Product / Housing Material
System Requirements
Requires iOS 13.0 / 12.0 or newer
Requires Android 8.0 / 6.0 or newer
Requires Mobile end device with Bluetooth 4.0
Auto-Off
10 min (when not connected via Bluetooth)
Battery Life
250 h with no illumination, no Bluetooth (Without illumination, without Bluetooth, without Vacuum Probe)
100 h with illumination and Bluetooth
150 h
39 h
Refrigerants in Instrument
R1234yf, R744 (CO₂), R437A, R503, R452A, R500, R114, R444B, R407H, R422B, R434A, R410A, R290, R449A, R401B, R407F, R13, R123, R718 (H₂O), R404A, R125, R416A, R421B, R422C, R448A, R22, R407A, R409A, R12, R454B, R414B, R442A, R1233zd, R420A, R424A, R458A, R427A, R450A, R124, R502, R1234ze, R600a, R23, R402B, R455A, R454A, R407C, R453a, R513A, R401A, R422D, R402A, R507, R454C, R408A, R421A, R134a, R32, R452B, R438A
Refrigerants Update via App
R11, FX80, I12A, R1150, R1270, R13B1, R14, R142B, R152A, R161, R170, R227, R236fa, R245fa, R401C, R406A, R407B, R407D, R41, R411A, R412A, R413A, R417A, R417B, R417C, R422A, R426A, R508A, R508B, R600, RIS89, SP22
Storage Temperature
-4° F to 122° F / -20° C to +50° C
-4° F to 140° F / -20° C to +60° C
System Requirements (Testo Smart App)
Requires iOS 13.0 or newer
Requires Android 8.0 or newer
Requires mobile end device with Bluetooth 4.0
Refrigeration Systems, Air Conditioning Systems, Heat Pumps


Determination of High and Low Pressure, Automatic Determination of Condensation and Evaporation Temperature and Calculation of Superheating/Subcooling. All Results can be read Simultaneously on One Screen
Tightness Test: Recording and Analysis of the Pressure Curve
Automatic Calculation of the Target Superheat (in Conjunction with the Appropriate Measuring Instrument, e.g. Testo Smart Probe)
Measure Vacuum: Graphic Progression Display of the Measurement with Indication of the Start and Differential Value
Evacuation: Graphic Progression Display of the Measurement with Indication of the Start and Differential Value (in Conjunction with the Appropriate Testo Smart Probe, e.g. Testo 552i Vacuum Probe)