Images are representations only.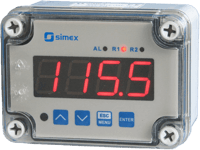 The SRT-N118 meter is designed for temperature measurements.

The device is equipped with one resistance-type Pt100/500/1000 input or thermocouple input which can operate with K, S, J, T, N, R, B, and E type thermocouples.

The inputs feature with fully linearized characteristics.

Thanks to the tight housing with high - IP 67 protection degree, this device is particularly suitable for operations in harsh environments.

The 24V DC / 100 mA output is designed to supply measuring transducers, and the RS-485 port enables data transmission in production process monitoring systems.

The REL / OC control outputs can adjust the level of measured signal and are controlled according to one or two threshold values.

Moreover, the meter can be equipped with analogue outputs, according to the customer selection: active current output, passive isolated current output or active voltage output.

The meter may be configured with no need to open the case, by using the remote controller or with free S-Config software via the RS-485 communication port.
Features
Temperature Meter in Wall-mounted IP 67 Case
Input: Thermoresistance or Thermocouple
0 or 2 REL / OC Outputs
Analogue Output: Active or Passive, Power Supply Output: 24V DC
RS-485 / Modbus RTU
Automatic Recognition of 3 and 4-conductor Connection - RTD inputs
Automatic Compensation of TC Cold Ends Temperature
Signal Peak Value Detection
Free Configuration Software S-Config
Specifications
Type of Input
Thermoresistance
Thermocouple
Type of Outputs
No Output
2 x REL
2 x OC
1 x REL + 1 x AO: 0/4-20 mA, Active, Non-Isolated
1 x OC + 1 x AO: 0/4-20 mA, Active, Non-Isolated
1 x REL + 1 x AO: 4-20 mA, Passive, Isolated
1 x OC + 1 x AO: 4-20 mA, Passive, Isolated
1 x REL + 1 x AO: 0/1-5 V, 0/2-10 V, Active, Non-Isolated
1 x OC + 1 x AO: 0/1-5 V, 0/2-10 V, Active, Non-Isolated
Power Supply
24 Vac/dc
85 V ÷ 260 Vac/dc
12 Vac/dc
Options
No Options
Green Colour LED Display
Operating Temperature -20° C ÷ +50° C
Green Colour LED Display + Operating Temperature -20° C ÷ +50° C