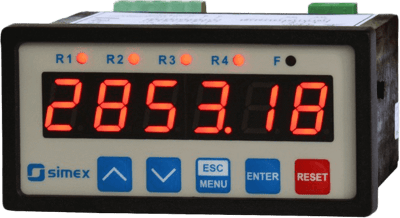 Images are representations only.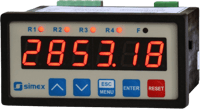 Universal programmable counter type SLIK-94 is equipped with many modern features required in simple and advanced automatic control systems.

Two counting inputs - pulse inputs can operate in few different modes: as two independent pulse inputs or single quadrature input.

Additional programmable input can change basic function of counting inputs - addition or subtraction of pulses from inputs, change the direction of counting or to stop counting without clearing.

Build in RS-485 communication interface enables controlling of all settings by host, and allows use of unit in advanced network systems.

SLIK-94 is equipped with independent clearing input.

The device can be equipped with one relay - or OC type output with independent threshold, which can be used to control external devices.

The counter can be configured with the local keyboard or free S-Config software via the RS-485 communication port.
Features
Universal Counter with Batching Function
2 Pulse Counting Inputs
1 Programmable Function Input
4 Counter Reset Sources
0, 2 or 4 REL / OC Outputs
Prescaler and Digital Filter
RS-485 / Modbus RTU
Free Configuration Software S-Config
Specifications
Input Type
Pulse: 2 x Counting, 1 x Programmable, 1 x Reset
Input Levels
Low: 0...1V, High: 10...30 V
Input Frequency
Electronic: 10 kHz - Standard, 5 kHz - Quadrature, Contact: Max. 90 Hz - Adjustable Filter
Output Type
Open Collector: I=30 mA, U=30 Vdc, P=100 mW
Relay I=1A, U=30 Vdc/250 Vac (cosø=1)
Power Supply
16...35 Vac, 19...50 Vdc
85..260 Vac/dc
11,4...15 Vac/dc
Display
LED, 6 x 13 mm, red
LED, 6 x 13 mm, green
Transmission Parameters
1200...115200 bit/s
8N1 / 8N2
Protection Class
IP 20: Case and Connection Clips
IP 65: Front
Optional Integrated Frame for Panel Cut-out Sealing
Documentation
Certifications and Approvals
Datasheet
Manual