Images are representations only.
Mini Alarm Thermometer
Part Number:
0900 0530
Brand:
Testo
Mini Alarm Thermometer, Battery Included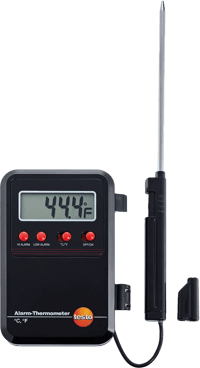 The affordable mini thermometer with Min/Max alarm. Small in size but big on quality!

The penetration probe is attached to the instrument (31.5 in. cable) and is suitable for measuring the temperature in air, in soft, powdery substances and in liquids.
Features
Adjustable min./max. alarm
Permanently connected probe
With clip for set-up, wall mounting or attachment
Measuring range: -50°C to 150°C
Specifications
Delivery Scope
Mini Alarm Thermometer with Penetration Probe (Probe Length 190 mm, Probe Cable 80 cm) including Attachment Clip and Batteries
Dimensions
3.9 x 2.5 x 0.7 in. / 100 x 64 x 18 mm
Operating Temperature
14° F to 122° F / -10° C to +50° C
Storage Temperature
-4° F to 158° F / -20° C to +70° C
Temperature
Measuring Range: -58° F to 302° F / -50° C to +150° C
Accuracy: ± 2° F (-22° F to 302.0° F) / ± 1° C (-30° C to +150° C) | ± 4° F (Remaining Range) / ± 2° C (Remaining Range)
Resolution: 0.1° F (-3.8° F to 302° F) / 0.1° C (-19.9° C to +150° C) | 1° F (-58° F to -4° F) / 1° C (-50° C to -20° C)