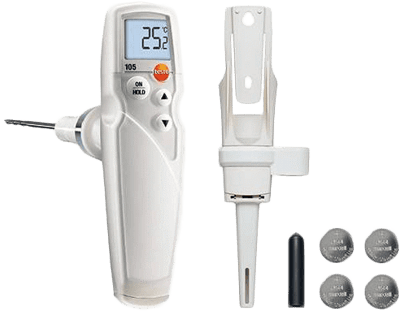 Images are representations only.
Testo 105 with Frozen Food Measurement Tip
Part Number:
0563 1054
Brand:
Testo
Testo 105 with Frozen Food Measurement Tip, Belt/Wall Holder and Batteries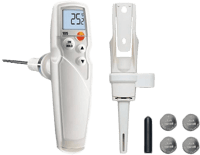 The testo 105 one-hand thermometer with frozen goods measuring tip is ideally suited to the measurement of the core temperature in deep-frozen goods, such as meat.

You can order additional measuring tips separately for measurements in semi-solid media (meat, cheese, jellies).

The One-Hand Thermometer with Frozen Goods Measuring Tip – A Total Practical Professional

The practical one-hand operation, compact size and illuminated display make every day practical work easier.

Both an acoustic and an optical alarm reliably warn of any exceeding/undershooting of the freely adjustable limit values.

The belt holder and wall bracket ensure safe storage - even on the move. This means the thermometer is always ready to hand.

Good to know: thanks to a water-repellent surface, the penetration thermometer can also be cleaned under running water – particularly hygienic in accordance with protection class IP65.

The testo 105 is tested for the food sector according to EN 13485 and certified by HACCP International.
Features
Developed for hard, practical day-to-day work: robust construction and washable (IP65)
Changeable measuring tip for frozen goods included in the scope of delivery, further measuring tips available as an option
Two freely selectable limit values, acoustic and optical alarm when the limit values are exceeded/undershot
Certified to EN 13485 and HACCP-compliant
Specifications
Delivery Scope
1 x Testo 105 One-Hand Thermometer with Froz.en Goods Measuring Tip, including Belt Holder/Wall Bracket and Batteries
Weight
7.41 oz. (incl. belt clip and batteries) / 210 g (incl. belt clip and batteries)
5.71 oz. (incl. batteries) / 162 g (incl. batteries)
Dimensions
5.8 x 1.5 x 2.9 in. (without probe) / 148 x 38 x 73 mm (without probe)
6 x 1 x 7 in. (with attached probe) / 148 x 38 x 185 mm (with attached probe)
Operating Temperature
-4° F to 158.0° F / -20° C to +70° C
Storage Temperature
-40° F to 158° F / -40° C to +70° C
Temperature - NTC
Measuring Range: -58° F to 527° F / -50° C to +275° C
Accuracy: ± 0.9° F (-4° F to 212° F) / ± 0.5° C (-20° C to +100° C) | ± 1.8° F (-58° F to -4.2° F) / ± 1.0° C (-50° C to -20.1° C) | ± 1 % of mv (212.2° F to 527° F) / ± 1 % of mv (+100.1° C to +275° C)
Resolution: 0.1° F / 0.1° C
Reaction Time: t99 = 15 sec (in froz.en meat approx. 60 s)
Monitor Temperature: Incoming Goods


The temperature of food has a critical influence on product quality and consumer health. In order to ensure food safety and prevent the proliferation of germs, it is necessary to monitor food temperatures.
During transport, upon receipt and throughout storage, make sure that cooling compliance is uninterrupted by using both infrared and core temperature measuring technology.
Checking temperature for incoming goods involves ensuring that the temperature complies with the specifications and that the goods can be safely used.
Make sure to measure both the temperature between the packaging and the core temperature of the foods. In most cases, values, date, time and user are entered onto a form and documented for later traceability.
The testo 105 one-hand temperature measuring instrument helps you in all food temperature measuring tasks:


Interchangeable Measuring Tips (i.e. Long Measuring Tip, Frozen Goods Measuring Tip)
Durable Structure
The Ability to Clean it Under Running Water (According to Protection Class IP65)
Safe Handling

Monitor Temperature: Storage


The temperature of food has a critical influence on product quality and consumer health. In order to ensure food safety and prevent the proliferation of germs, it is necessary to monitor food temperatures.
During transport, upon receipt and throughout storage, make sure that cooling compliance is uninterrupted by using both infrared and core temperature measuring technology.
Mobile, random sampling and stationary temperature measuring instruments are used to monitor food storage.
When storing foods, the temperature of the stored goods must meet the required specifications and cooling chain compliance.
This ensures that the goods can be safely used for further processing or for consumption. The Testo 105 one-hand temperature measuring instrument helps you to do this through:


Interchangeable Measuring Tips (e.g. Long Measuring Tip, Frozen Goods Measuring Tip)
Special Robustness and the Possibility of Cleaning it Under Running Water (According to Protection Class IP65)
Good, Safe Handling