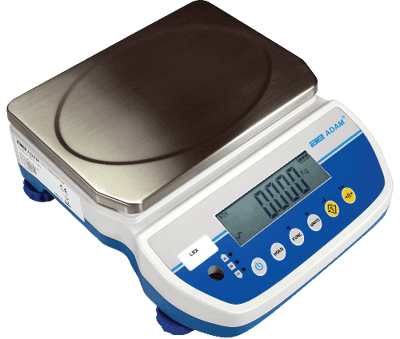 Images are representations only.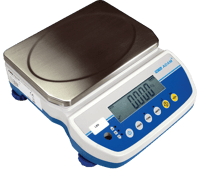 Latitude compact bench scales deliver an excellent value for weighing, checkweighing, percentage weighing, and counting.

With easy operation, Latitude is ideal for production, warehouse, or field use, as it is powered by the included AC adapter or internal rechargeable battery. The battery operates for 240 hours, so there are no worries about losing power. For added flexibility and convenience, Latitude can be charged using any USB power source, such as the USB connection in a vehicle or external USB power banks.
Features
Hardware

Overload protection helps prevent damage to internal components
Rugged construction stands up to industrial use
Sealed keypad protects against dirt and spills
Simple key operation allows for easy set up and operation
Large, grade 304 stainless steel pan allows swift cleaning
Adjustable leveling feet help optimize setup
Software

External calibration allows for verification and adjustment with weights
Checkweighing with audible alarm
Hold function freezes the displayed weight, allowing time to elapse without losing the result
Parts counting with preset sample sizes
Display

Vivid, backlit LCD easily visible in any lighting conditions
Checkweighing LEDs clearly show under, over and acceptable limits
Power

Rechargeable battery included for operation almost anywhere
Programmable auto power-off to save energy
Battery level is clearly displayed to show the user when the scale needs to be recharged
Operates with a low voltage USB input providing flexibility for powering the device
Specifications
Capacity
6 lb / 3 kg
12 lb / 6 kg
25 lb / 12 kg
65 lb / 30 kg
Readability/Repeatability (S.D.)
0.001 lb / 0.5 g
0.002 lb / 1 g
0.005 lb / 2 g
0.01 lb / 5 g
Linearity
± 0.002 lb / 1 g
± 0.004 lb / 2 g
± 0.01 lb / 4 g
± 0.02 lb / 10 g
Pan Size
9.6" x 7.1" / 245 x 180 mm
Display
Backlit LCD with 0.9" / 24 mm High Digits
Power Supply
5 Vdc 1 A Adapter / Internal Rechargeable Battery
Operating Temperature
0° to 40° C (32° to 104° F)
Weighing 
Parts Counting 
Percentage Weighing 
Checkweighing 
Display Hold