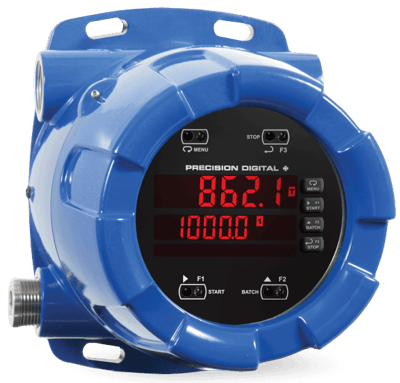 Images are representations only.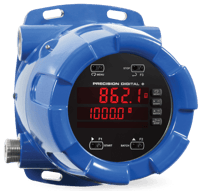 The ProtEX-MAX™ PD8-6210 offers all the functionality of the ProVu PD6210 as a fully FM, CSA, ATEX, and IECEx approved explosion-proof product.

It is an analog input (4-20 mA, 0-5 V, 1-5 V, etc.) digital batch controller specifically designed for single and multi-stage batching applications.

It provides excellent but simple batch control capabilities with features such as preclose relays and automatic overrun correction for more accurate batches and convenient SafeTouch® through-glass buttons for simple operation and menu navigation without having to remove the cover.

The preclose deactivates a specific relay before the batch is finished in order to allow slower fill rates and increased accuracy. Automatic overrun correction keeps the batch size accurate over time and with system wear.

The PD8-6210 includes a 24 VDC power supply to drive the flowmeter and can be equipped with four internal relays and a 4-20 mA analog output.
Features
SunBright Display Standard
Start, batch, & stop with pause front panel buttons
Display batch total + rate, grand total, batch count or preset
Single or multi-stage batching with up to 8 relays
Automatic overflow correction
Manual control or automatic batching
SafeTouch® through-glass button programming
Modbus RS-485 serial communications
Flanges for wall or pipe mounting
Isolated 24 VDC @ 25 mA transmitter power supply
Grand total can count up or down
Onboard USB and MeterView® Pro programming software
8 models matching criteria
Specifications
Approvals & Certifications
ATEX, II 2 GD Ex d IIC T* Gb Ex Tb IIIC T90° C Db
CSA Class I, Div. 1, Groups B, C, D, Class II, Div. 1, Groups E, F, G Class III, Div. 1, Class I, Zone 1 Ex d IIC Zone 21 Ex Tb IIIC T90° C
FM Class I, Div. 1, Groups B, C, D Class II, Div. 1, Groups E, F, G Class III, Div. 1, T5/T6 Class I, Zone 1, AEx d, IIC Gb T5/T6 Zone 21, AEx Tb IIIC T90° C
IEC Ex d IIC T* Gb Ex Tb IIIC T90° C Db
Environmental Protection
IP66
IP68
NEMA 4X
NEMA 7
NEMA 9
Operating Temperature
-40° to 65° C (-40° to 150° F)