Images are representations only.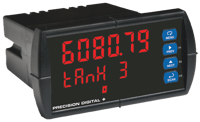 The ProVu PD6080 Super Snooper Modbus® scanner is a multi-purpose display and controller capable of scanning up to 16 Modbus process variables and accepts two analog process inputs.

The scanner can be programmed as a Modbus RTU master, slave, or snooper.

It is the ideal display for Modbus multivariable transmitters or for existing Modbus networks with transmitters in need of an easy-to-read and conveniently located remote display.

As a master, the PD6080 can read up to 16 Modbus registers on up to 16 Modbus devices and automatically alternate each of these process variables - PVs on the dual-line display along with a unit and tag for each.

In snooper mode, the PD6080 can read any Modbus variable being polled by a master, which allows you to easily add a display into an existing Modbus network.

Like all ProVu meters, the PD6080 includes UL / C-UL listing and CE marking, a NEMA 4X front, and AC or DC power options.

Powerful math functions may be applied to the analog or Modbus inputs, such as addition, difference, average, and ratio.
Features
Modbus® RS-485 RTU Serial Communications as Master, Slave, or Snooper
RS-485 Serial Communications Standard
Decimal Display
Scan up to 16 Modbus Process Variables
Dual Analog Inputs: 0-20 mA, 4-20 mA, 0-5 V, 1-5 V, and ±10 V
Addition, Difference, Average, Multiplication, Division, Min, Max, Weighted Average, Ratio, Concentration, & More
Large Dual-Line 6-Digit Display, 0.60" & 0.46"
Sunlight Readable Display Standard
NEMA 4X, IP65 Front
Universal 85-265 Vac, or 12/24 Vdc Input Power Models
Isolated 24 Vdc at 200 mA Transmitter Power Supply
Programmable Display & Function Keys
32-Point, Square Root, or Exponential Linearization
Multi-Pump Alternation Control
2 or 4 Relays + Isolated 4-20 mA Output Options
External 4-Relay & Digital I/O Expansion Modules
Configure, Monitor, and Datalog from a PC with Free ScanView Software
12 models matching criteria
Specifications
Approvals & Certifications
Function
Absolute Difference
Addition
Average
Concentration
Difference
Division
Draw
Multiplication
Ratio
Weighted Average
Isolation
4 kV Input/Output-to-Power-Line
500 V Input to Output or Output to P+ Supply
Operating Temperature
-40° to 65° C (-40° to 150° F)
Documentation
Instruction Manuals
Modbus Tables